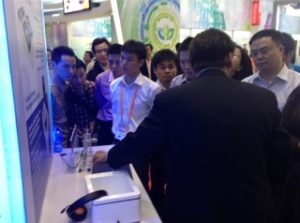 PowerbyProxi, developer of the world's most advanced and safest wireless power system, attracted strong interest in its In-Device Wirelessly Rechargeable Battery Solution at the recent China Hi-Tech Fair.
The breakthrough technology enables all devices using AA batteries to remain charged eliminating the cost of replacing batteries and the hassle of removing rechargeable batteries to place them in an external charger.
"Keeping devices, like TV remotes, cameras and video game controllers, charged throughout their lifespan usually requires purchasing dozens of batteries,"said Greg Cross, Executive Chairman of PowerbyProxi. "We offer a convenient alternative with the added environmental benefit that fewer toxic materials are ending up in landfills."
Cross says PowerbyProxi's innovative technology has generated a lot of attention at the technology show, the largest of its kind in the world.
"We fielded a lot of interest from attendees and local media. Our technology featured on China TV which has an audience of 1.3 billion."
PowerbyProxi's advanced In-Device Wirelessly Rechargeable Battery Solution, comprising AA wireless batteries and a charging unit, works with any device powered by AA batteries instantly transforming it into a wirelessly rechargeable device. When batteries are low on charge, simply place the device into the In-Device charging unit. This 'In-Device Charging' illustrates PowerbyProxi's innovation in wireless power and miniaturization.
PowerbyProxi's solution delivers major advances in wireless power including the world's smallest wireless power receivers, integrated directly into the existing form factor of AA batteries. It also houses a unique wireless transmitter design to provide for unprecedented three-dimensional charging with full spatial freedom (the device can be placed in any position and orientation), as well as the ability to charge multiple devices simultaneously. This technology enables consumer electronics OEMs and ODMs and battery suppliers to develop a system capable of re-charging millions of everyday consumer devices completely wirelessly.