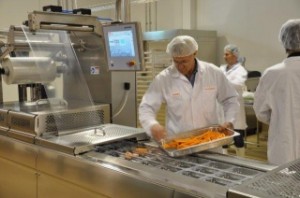 Auckland-based innovation centre, The FOODBOWL, which offers food and beverage producers exclusive use of its world-class facilities, is swinging its doors open to the industry and public.
More than 600 people, including equipment and ingredient suppliers and packaging companies, are expected to attend Open Days on March 13 and 14 that showcase The FOODBOWL's progress, its capability and state-of-the-art processing halls.
Food and beverage products developed by its customers will be available for sampling. And there will be display stands, designated networking areas, and seminars about accessing markets, particularly supermarket shelves.
A group representing the East Gippsland Food Cluster will travel from Victoria in Australia to be part of the Open Days, themed "Innovation in Action.
"There's nothing quite like The FOODBOWL in Australia and they are envious about our government doing so much to support the food and beverage industry here," said Sarita Males, The FOODBOWL's chief executive.
The FOODBOWL (Te Ipu Kai) has four main processing halls, a freeze drying unit, microwave thawing, and product development kitchen. The halls are divided into UHT and aseptic filling; twin-screw extrusion, milling, grinding, sieving and VBlending; high pressure processing, and general processing and retorting,
Small and large companies can book the halls for their exclusive use, and each hall comes with staff facilities (kitchen, office and toilets) and red-line hygiene protocol. There are more than 150 pieces of ancillary equipment on site that can be configured to suit the individual processing system.
The FOODBOWL, located in Verissimo Drive near Auckland International Airport, provides a competitive edge by offering customers use of its high pressure processing unit.
Food products are pasteurised without using heat, harmful bacteria are removed, and the fresh taste and appearance are maintained, resulting in longer shelf life and increased food safety.
The innovation centre, established at the end of 2011, enables food and beverage companies to test their products, complete production runs and produce market samples. It is a cost effective and low risk way for businesses to develop and prove their initiatives.
The FOODBOWL is, in effect, your own mini factory available for hire or lease any time of the day or week. The FOODBOWL management can also connect customers with highly-skilled technologists, scientists, consultants, packaging and equipment suppliers, and funding experts.
"It's not just about leasing space but also building capability," said Sarita Males. "When people contact us, we do a gap analysis of their business and then put them in touch with the right people to solve a problem.
"We may be talking with some businesses for several months before they ready to come to The FOODBOWL and start producing," she said.
Over the past year, The FOODBOWL has assisted more than 120 customers, with 40 per cent of them being family-based, start-up businesses. Some larger companies will be using The FOODBOWL facilities for the next 18 months to two years before they make a decision to purchase new capital equipment and expand their business.
The smaller customers have found it ideal to upscale by moving out of their rented kitchen and into The FOODBOWL. One of them is Hakanoa which makes handmade ginger syrup and chai, and ginger beer.
Its owner Rebekah Hayes worked closely with The FOODBOWL process engineer Glenn Hendriks to improve the production processes and increase the shelf life of the ginger beer.
Hakanoa has now spread outside Auckland and selling product into cafes and specialty food stores around the country. Rebekah Hayes said she wants to be exporting by the end of the year "come hell or high water or I'll eat my hat." She is eyeing the upmarket Waitrose chain of supermarkets in Britain.
Culley's Sauces and Salts also moved out of its own small kitchen and into The FOODBOWL. Owner and former chef Chris Cullen said using the 80-litre and 120-litre kettles at The FOODBOWL has revolutionised the way he makes his products.
"You can dial up quite a significant amount on one production day, and it's reduced my processing time by about 75 per cent," said Mr. Cullen.
On production day, four of The FOODBOWL staff help four from Culley's to get through the production efficiently and quickly.