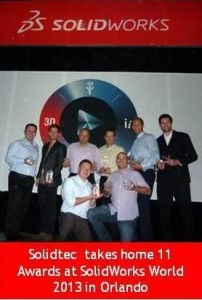 Solidtec Solutions, provider of the industry-leading 3D CAD software SolidWorks, has been recognised as the top performing SolidWorks reseller in Asia Pacific South.
In addition to this recognition by Dassault Systemes SolidWorks Corporation, the company has recently been named one of the top performing technology resellers in the Australian IT Channel, rated 27th in the CRN Top 50 Awards. CRN Fast50 rates the top performing companies in the channel according to revenue growth.
"I would like to take the opportunity to thank all of our customers and staff for making 2012 our best year yet," says Shane Preston, CEO of Solidtec Solutions ANZ.
During 2012, Solidtec's revenue grew by more than 32% over its 2011 revenue of $6.2M. The company's user base also grew to over 1200 customers in 2012, which represented an increase of 28% over 2011.
To support this dramatic growth, Solidtec added 16 new employees in 2012.
Solidtec Solutions attributes its growth to its strong focus on customer service, understanding their customers' businesses and the alignment of the SolidWorks suite of products, including SolidWorks Simulation, Enterprise PDM and SolidWorks Composer, to the specific needs of small and mid-sized businesses.
"Drawing on many years of expertise in Australia's and New Zealand's manufacturing, engineering, design and mining industries, we continue to evolve and improve our services, and selling the highest amount of SolidWorks licences across Asia Pacific South in 2012 demonstrates our commitment to adding value to our customers' businesses through our technical expertise," Mr Preston says.
Solidtec boasts some of the best engineering talents in the business and is proud of its growing team of certified SolidWorks Application Engineers. Three of Solidtec's Application Engineers, one in NZ and two in Australia, have been awarded Elite Application Engineer status in the last 12 months.
In 2012, Solidtec Solutions strengthened its focus on the SolidWorks Community with the addition of a number of initiatives including Solidtec Webtec's free technical web training on SolidWorks and Simulation, as well as new products including SolidWorks Electrical and SolidWorks Plastics. The two new add-ons are not part of the core SolidWorks design software. They mark the company's introduction of two new products, designed to improve integration of functional teams involved in the design process.