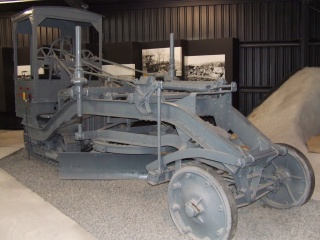 A collection of 36 rare and historic Caterpillar tractors will stay in New Zealand – thanks to Ben Gough, executive director of Gough Group and his sister, Gina Satterthwaite.
The Canterbury-based brother and sister have secured a deal which will see the machines and associated equipment remain here following the sale in Rotorua of the privately-owned New Zealand Caterpillar Experience.
The Experience has operated for the last seven years, and is well known world-wide as a unique collection of rare machines.
"When the owner, Lindsay Willis, contacted us to see if we were interested in buying the collection, it was too good an opportunity to pass up," said Ben Gough.
"The collection is uniquely Kiwi, and reflects the contribution the Caterpillar brand and the Gough Group has made to the development of New Zealand infrastructure and farming."
The unique legacy of the collection was also a key element in the decision for Gina. "The history of the machines is also the history of our family, so retaining it in New Zealand, rather than losing it overseas, was an easy decision for us," she said.
All the machines in the collection were sold or serviced by the Gough Group, and several of them are extremely rare, with only a handful of machines worldwide, including a 1928 Auto Patrol, one of only two known examples in the world, and a Speeder from 1937.
Initially the collection will be moved to a private location for storage while designs are developed for its new long term home. Planning has not yet begun but the intention is to have the historic machines on public view again at some stage in the future.