A new type of fuel funnel that filters out harmful dirt, particles and water, which could potentially damage any engine, is now available in New Zealand.
Just introduced as part of the popular Mr Funnel range, the new Fuel Filter Funnel features space-age filtering technology that traps a wide range of contaminants from entering the fuel system.
The US manufacturer describes it as the 'world's first portable fuel cleaning system' and says it can save thousands of dollars in costly engine or fuel system repair bills. Modern engines fitted to vehicles, garden equipment and boats are highly susceptible to even small traces of particles or water contamination, making them hard to start, as well as causing damage.
The Fuel Filter Funnel prevents these contaminants from entering the system without unduly hindering the flow. Filtered fuel flows out almost as quickly as if it was passing through a funnel with no filter.
The 'sump' area in the funnel collects the deflected water and other contaminants once the fuel has passed through the filter, for easy disposal.
It is estimated that 90% of problems affecting small engines are usually related to fuel issues, often from water or other contaminants, so if you can screen your fuel out in te field it will definitely be better for your engine and pocket, as well as saving time and frustration.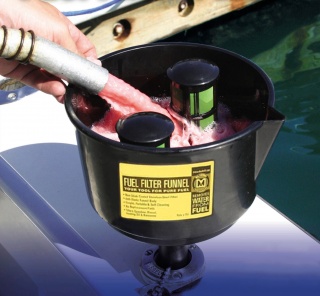 Fuel left in containers is especially prone to condensation, which can be extremely damaging if used in diesel engines such as those used in boats, farm and contracting equipment that can be left sitting over long periods, although moisture is bad for engines running on any fuel. Other risks include dirt, saw-dust, and even vegetative matter, such as grass clippings/leaves, entering tanks when refuelling motor mowers, chainsaws or other outdoor equipment. The Fuel Filter Funnel removes these risks.
The Fuel Filter Funnel can be used with a variety of fuel types, including petrol, diesel, 2-stroke mixes, kerosene and heating oil, and its heavy-duty construction is designed to resist chemical/solvent attack.
The special filter material, which can trap moisture and particles down to .005, was developed initially for military use to protect US Army tanks on dusty battlefields and has also been used in the space programme and is subject to a pending patent.
A demonstration of just how effective it is can be viewed in a video clip on the www.mrfunnel.com website, which shows an experiment where sand, iron filings, grass clippings, woodchips and water are poured into a pail of fuel before passing through the Fuel Funnel Filter, which removes the contaminants completely.
The Mr Funnel Fuel Filter Funnel is available in four different sizes, from the smallest that measures 89mm in diameter and has a flow rate of 9.5 litres/minute, to the largest size, which has a pair of filters and comes with a 216mm diameter and a flow rate of more than 45 litres/minute .