PIC CAP
The new L.E.D flexible map reading light can now plug directly vehicle accessory outlets.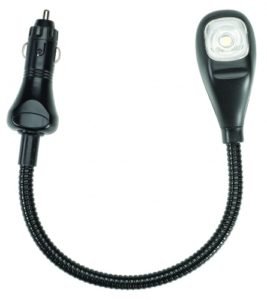 The L.E.D map reading light can now be directly plugged into a vehicle's accessory outlet, making it more versatile and easy to use.
A version features an accessory plug at the end of its 250mm flexible arm that plugs into power outlets commonly found around many vehicles, from trucks and cars to motor homes, caravans and even boats.
The new lamp has all the features of the earlier fixed position multi-voltage 9-33V lamp, with its stylish design and powerful 1W L.E.D light, thus making it ideal for passengers to check a map whilst the vehicle is on the move at night, as well as relaxing at the end of the day reading a book or just helping to shed more light over the interior.
The light output provided is a crisp clear light, which is designed to ease eye strain when reading and the flexible arm enables quick and easy light adjustment. To activate, it is equipped with an integrated on/off switch built into the lens.
The light has an ultra-low current draw of just 0.18A at 12V, is attractively packaged in a stylish blister pack and carries a 5-year L.E.D Warranty.