Hi-Optics Rotating Beacons are described as the new benchmark in emergency/warning lighting.
Combining exceptional engineering with the latest in L.E.D technology the warning lamps are as powerful as they are reliable and they are now available in New Zealand.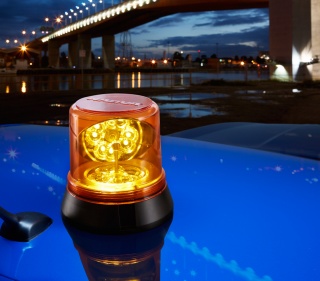 The lamps deliver all the performance attributes of traditional rotating beacons with lighting brilliance and the long life of L.E.Ds, making them ideal for hard working contracting equipment, as well as emergency vehicles and those operated by utilities and local authorities.
Eight powerful 3-Watt L.E.Ds work in combination with a precision reflector to produce a brilliant light output that meets Class 1 approval. Multi-voltage solid state circuitry is used with a brushless magnetic drive system for ultra-quiet and smooth operating performance without the wear and tear of belts, gears or brushes.
The beacons utilise the latest in durable materials, making them ideally suited to the harshest of operating conditions. Virtually unbreakable polycarbonate lenses are impact and shock resistant, while the aluminium base dissipates heat and resists vibration during the expected long operational life.
Within the range of options available is a magnetic base lamp complete with a high strength rubber suction pad for extra safety and vehicle protection. This lamp includes a pre-wired spiral lead with a cigarette lighter/merit plug.
Red, Amber and Blue lens options are available in these multi-voltage 12/24-Volt, low current draw lamps, which each carry a 5-year L.E.D Warranty.