An innovative New Zealand-made product is set to give people improved alerts and information about emergencies.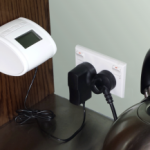 When a disaster such as a tsunami or volcanic eruption happens, the Tsunado, a compact plug-in alert radio unit, sounds a loud alarm before tuning into a Civil Defence radio broadcast.Ê It will soon be available for use in homes and offices.
The Tsunado is made by Disaster Warning Systems Limited (DIWA), who received funding and mentoring from Callaghan Innovation.
After a successful pilot, DIWA recently signed a license agreement with Auckland Civil Defence, a division of Auckland Council, to broadcast public alerting messages using this system.
The Tsunado builds on the long-established system whereby Civil Defence can request radio stations to broadcast public alerts and survival information.
DIWA CEO Rhys Greensill says that even if the power is out, the Tsunado's long-lasting battery enables authorities to communicate with people for up to ten days, allowing them to advise where to get fresh drinking water, shelter or food.
"Cellphone-based systems are useful, but experience in New Zealand and overseas shows that they are very fragile in major disasters. With cellphone networks overloading or disrupted, they operate for only a short time after an event, if at all. We are therefore using a combination of broadcast technologies such as satellite and FM radio."
DIWA was initially awarded $5000 from Callaghan Innovation to undertake a freedom-to-operate search as part of the process of protecting intellectual property. This year they were awarded a $255,000 grant to complete the Tsunado system's development.
"While the funding was important to help us continue to develop the technology, our relationship with Callaghan Innovation evolved into one more akin to a mentor. They gave us useful suggestions on a number of the technical and marketing problems we faced, as well as linking us to a number of useful networks and individuals," Greensill says.
Callaghan Innovation Acting Manager R&D Grants Ross Baker says disaster management technology benefits New Zealanders directly, but also has promising export potential. "We have the opportunity here to build on New Zealand's reputation for being at the forefront of disaster preparedness," Baker says.
Tsunado alert radios will be available by early November through the company's website. They can be pre-purchased now.
The idea for the Tsunado came from DIWA founder and Executive Director Gary Benner, after he heard the news of the earthquake and tsunami on Boxing Day 2004, when he coincidentally set off his smoke alarm around the same time.