A recent partnership between 3D systems and Hershey will make it easier to satisfy your strongest candy cravings. You don't even need to leave the house. Hershey's new chocolate 3D printer is a pretty sweet project (pun very much intended).
The chocolate printer works the same as the other ones. 3D printers use specific materials like concrete, plastic, metal, and now, chocolate to build items layer by layer, following directions from a computer program.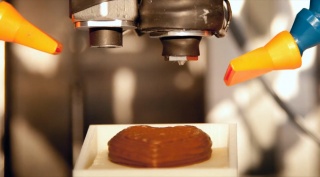 3D Systems said that this deal with Hershey will allow 3D printing to become a more mainstream technology by giving people the opportunity to make their favourite candies as well as invent new designs. I'm not sure how this can be accomplished when the smaller printers for consumers start at $1000 a pop, but it's a commendable idea to make this technology more attainable to regular folk.
William Papa, head of research and development at Hershey, had this to say about the partnership: "Whether it's creating a whole new form of candy or developing a new way to produce it, we embrace new technologies such as 3-D printing as a way to keep moving our timeless confectionery treats into the future." 3D printing is definitely the way of the future.
People are fascinated by 3D printing but may not have a use for a 3D-printed heart, prosthetic, or building. Candy seems like a good middle-ground to ease into this popular item that seems to be the hot new tech trend right now. Maybe, as it becomes more prevalent, the hefty price tag will go down so we can all play with our Easy Bake Oven for adults.
Critics of the chocolate printer, and other 3D-printed endeavors, don't see the merit in such advancements for consumers. It seems more like a fear of losing manufacturing profits than a simple skepticism of an unnecessary product. The machinery in Hershey's factories kind of looks like a series of 3D printers already, so who wouldn't want a small chocolate factory in their home?