Ever tried to find a switch to operate driving lights, a diff lock or compressor in the cabin of a 4WD vehicle in the dark?
Chances are you probably pushed several un-related switches or buttons in frustration until you found the right one. But now there is a solution.
A new range of top quality illuminated rocker switches have 4WD-specific accessory symbols so that owners of four-wheel-drive recreational and work vehicles can easily find and turn on accessories when it's too dark to see clearly in the cabin.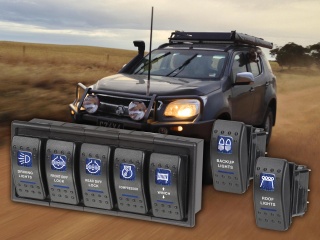 The fully sealed, globe-illuminated 12-Volt rocker switches are printed with the most popular 4WD accessory symbols and built tough for demanding off-road environments, which means they will continue to work long after low quality switches have parted company with wires or just stopped working.
For a long operating life, the switches feature a fully-sealed fascia, which prevents dust, water or other debris fouling the switch mechanism.
Users will also appreciate the generous proportions of the switches, which makes them easy-to-engage over rough terrain, while the sealed design means that muddy or wet fingers won't pose a problem.
Available in 'off/on' and 'on/off/momentary on' (ideal for winching), the switches feature a dash-light function that turns on with the park lights, making them easy to locate at night or in poor light conditions. When engaged, the backlit symbol also illuminates, confirming to the operator that the accessory is on.
The range of 4WD switches are screen-printed with a white symbol and title printed on a blue lens with most of the popular 4WD accessories covered. Available symbols include: driving lights, fog lights, front and rear diff locks, compressor, back-up lights, auxiliary lights, roof lights and winch.
Should a different symbol or colour be required, the globe illuminated switches are also available in blank amber, blue, green or red options allowing the user to customise, via a decal set containing 50 popular 4WD accessory symbols.
The globe illuminated switches are easy to wire and suit both negative and positive switching systems found in late model four wheel drive drives and utes.
Users wanting to bank a number of switches can do so via inter-connecting mounting panels to provide a neat and professional-looking finish and ease of installation, requiring only one mounting hole.