Picture:Warwick Downing of TiDA and Ian Brown of Callaghan Innovation.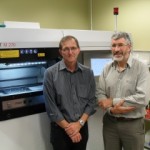 New Zealand businesses stand to benefit from a top-class 3D printing facility that can create objects from titanium and other metals, enabling the development of a range of new export products.
Callaghan Innovation and the Titanium Industry Development Association (TiDA) have jointly purchased a Selective Laser Melting instrument, now in operation at TiDA's Tauranga site. This instrument has the ability to make state-of-the-art 3D objects by 'printing' them using metal powders, such as titanium alloys and stainless steel.
Callaghan Innovation's Advanced Materials research team will work with TiDA to use the Selective Laser Melting machine for research and to help businesses commercialise products.
"The future of high tech manufacturing is driven by 3D printing," says Dr Ian Brown, Callaghan Innovation's Materials Research Manager. 3D printing techniques – known as Additive Manufacturing – are very efficient ways to transfer complex industrial designs to commercial production.
"Titanium is tremendously expensive and traditional ways of machining something from this material involved throwing away 90% of the metal. Using 3D printers, you build the product layer by layer, with very little material wasted," Dr Brown says.
TiDA CEO Warwick Downing says manufacturing using advanced metal alloys is very cost effective when using smart design and clever technology, creating high growth industry that has tremendous potential for New Zealand.
"TiDA has well-established skills at designing for and the application of 3D printing in metals. New Zealand is leading the way in research that supports this industry," Mr Downing says.
"Having the Callaghan Innovation team onsite will promote closer working ties and will enhance our materials research capability. We are already seeing the results with new products for companies already being worked on and a faster product turn-around through the combination of the two sets of skills."
The 3D technology is delivering results for NZ companies, and leading to a range of new export products. For example, the Team New Zealand safety knife was designed and manufactured at the TiDA facility as well as a range of products that are now being manufactured using the process rather than traditional manufacturing methods.
The 3D printer is only the second of its kind in New Zealand – both instruments being located at the TiDA labs.The additional skills available as a result of the Callaghan/TiDA collaboration make the TiDA site the most advanced commercially focused facility in Australasia, and a global leader in the technology.