Change for your own business growth. There is no doubt that lean thinking is driving massive changes in manufacturing processes worldwide.
It lies at the heart of measurable improvements in quality, reliability and performance. What lean is not, however, is a magic formula that solves manufacturing issues in one easy application. Businesses that announce they are 'going lean' are missing the point. Lean principles work best when they are applied in pursuit of specific business goals rather than grand, general initiatives. In other words, use them first to tackle the main problems that stop your company getting where it wants to be.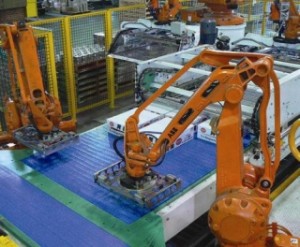 The truth of this is underlined by the work of a producer of gas turbines and generation packages. Part of a famous international engineering group, its products were excellent, its workforce skilled, and it had recently had good capital investment. So where was the problem?
Quite simply, the company was risking missing out on a huge market opportunity unless it could shorten its lead times and increase throughput and productivity fast.
Within the next 25 years, it is expected that the volume of new equipment installed will equal today's entire installed capacity. The company needed a new way of manufacturing to meet its goal – a large share of an expanding market.
Facing the issues
The company was realistic about its current situation: its processes and performance were variable and unpredictable. It wasn't getting the volumes it wanted nor realizing the potential of its existing capacity. There was also little visibility of information at both shopfloor and at management level. Lead times were measured in double digit months; its target was the same number in weeks. It was also carrying far too much work in progress (WIP) with idle inventory stacked up behind bottlenecks across the shopfloor. Clearly, this had adverse implications for working capital.
Taking the opportunities
When we were called in as an improvement partner, we estimated that a 20 percent improvement in efficiency was achievable, equating to £UK10 million per annum. When we left nine months later, the company was already making significant savings. When we went back to check progress after 18 months, annual savings had risen above £15 million. This illustrates the value of a key Deloitte principle: don't do it for people, help them to understand how they can do it for themselves. The members of this company had not just continued the process we started together but were effectively applying the principles to other areas of the business. Improvement had therefore become a normal part of the way the whole organization works.
So what were the key stages of the help we provided? Basically, there were four important elements in our consultancy:
* establishing the need for change
* conducting reference visits to foster conviction and establish external benchmarks
* capitalizing on the opportunities quickly through pilot projects
* equipping the company for the journey
Developing the attitude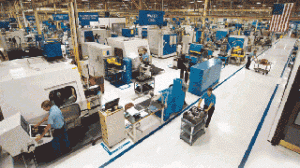 Since the business was not under immediate threat, the first challenge was to build recognition of the need to change and stimulate enthusiasm. We therefore mounted an extensive communications programme, including workshops to listen to the views and issues of both workforce and management. We reinforced it with visits to look at the achievements of previous clients across a variety of sectors. It helped to strengthen the message that lean principles apply regardless of the industry type. This was a crucial stage in stimulating volunteers rather than 'pressed' men.
We jointly picked a series of pilots addressing acknowledged bottlenecks and problem areas.They were narrow in scope but right for installing lean thinking, gaining quick advantages and so building profile and credibility. This created a momentum for improvement that reached critical mass after nine months and, with sensible management, could sustain itself thereafter. Most of the bottlenecks were due to poor planning of the flow of materials. A traditional 'sweat the asset' outlook meant that high volumes were being produced that weren't actually needed by downstream processes.
We gradually introduced them to a new planning perspective based on just in time (JIT) principles and put into practice via a simple system of kanbans. With initiatives to reduce set-up time and a slightly more flexible approach to routine maintenance tasks, the performance improvements were rapid. Without forcing the pace, other teams were able to see that it was a better, more logical way to work.
Building the skills
Our support programme operated at three levels: management (including the executive and sponsor); programme leaders and internal consultants. Four of our lean experts worked with a core group, embedding their knowledge and jointly planning initiatives through workshops and simulations. Internal consultants were encouraged to develop the skills needed to apply the improvements to individual cells and teams. The first projects were carried out with our guidance; on subsequent projects we acted as observers and, if needed, counsellors.
At the same time, the core team underwent specific training to develop the project management techniques needed to sustain the programme. In projects of this kind, we always try to downplay the role of Deloitte. It is essential that the company's own people are the visible drivers of the project. We offer quiet, practical advice until they have confidence in their own judgement.The Divisional Operations Director commented: "At the end of nine months, we didn't notice you had gone." To our lean team, it's confirmation that they did their job properly.
Reaping the benefits
So what are the tangible differences in the way this company is now operating? Firstly, they have a strong sense of a common goal: to generate the extra capacity to fill a market need. They also have a means of meeting it. They are now keenly aware of the dependencies between units, pursuing joint improvement rather than individual targets. Product velocity is three times faster, measured in weeks and not months. There has been a 40 % reduction in working capital, achieved without reinvestment in plant. And, most importantly, where once there were pockets of continuous improvement, it is now a way of life.
– Deloitte