There are regular reports of incidents where vehicles have crashed into construction zones, bus stops, pavement cafes and retail shop windows. Protecting lives from potential injury or death is paramount for all authorities so after each of these incidents, there is an investigation to assess whether or not it could have been prevented.
 One way to prevent out of control vehicles crashing into work zones or pedestrian areas is to erect a barrier which affords protection but does not restrict everyday activities on, or adjacent to, a road. Some common types of barrier, such as precast concrete sections or water-filled plastic units, provide inadequate protection and in some cases increase damage and injury to drivers and pedestrians.
 The Omni Stop Bollard is an energy absorbing bollard that is the only one of its type in Australia. It has been extensively crash-tested with impacts up to 60 kilometres per hour and complies with the requirements of AS/NZS3845:1999 Table 5.3.3(3). The Omni Stop Bollard permits access for workers to a construction zone or pedestrians to a shopping precinct while at the same time preventing vehicle penetration.
Designed, assembled and tested in Australia, the Omni Stop Bollard is available from Saferoads. Based in West Gippsland, Victoria, Saferoads has been servicing State government departments, local councils and road construction companies with a broad range of products designed to direct, protect, inform and illuminate all road users since 1992.
PICTURE: Vehicle travelling at 60 Km per hour safely stopped with minimal deflection of the Omni Stop Bollard.
 The carbon steel bollard of the Omni St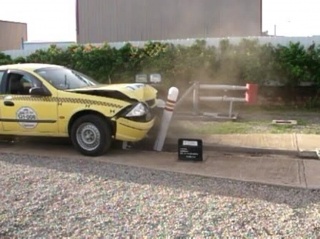 op is supported by a unique energy absorbing cartridge that is encased in a concrete footing. When the bollard is impacted, the cartridge deforms and absorbs the kinetic energy of the vehicle. When a 1600 kilogram car at 60 kilometres per hour hits an Omni Stop, the bollard moves no more than 300 millimetres at the top. The cartridge can deform in any direction – hence the bollard's name – allowing it to be located where it provides the best protection. After most impacts the inner cartridge can be replaced and the bollard itself reused.
 Councils in all States recognise the effectiveness of the Omni Stop Bollard in protecting workers, drivers and pedestrians. The Omni Stop bollards can also be installed to protect communication assets from costly vehicle damage which causes disruption to households and business alike.
The increase in the popularity of pavement cafes means there are larger numbers of people seated close to moving traffic. A growing number of local authorities across Australia have made it part of their outdoor dining policy that energy-absorbing bollards be installed to protect diners at all cafes, requiring applicants to install adequate coverage commensurate with the number of kerb-side diners. Similarly, tram stops, bus stops and other pedestrian areas where there are large numbers of commuters closer than normal to the edge of the road are also being protected by energy-absorbing bollards.
 Construction work on busy suburban or CBD streets mean that workmen and women are at greater risk of being hit. When a site requires a loading dock or crane bay, workers unloading materials need the assurance that a barrier system that will protect them from potential impact. The Omni Stop Bollard can be sited along the roadway to delineate the safety zones, with some bollards fitted with a lifting eye to provide the flexibility of removing them and covering the hole left with a specially designed steel disc which allows road authorities the ability to open the lanes for peak hour, special events or emergency traffic flows.
 Saferoads continues to research and develop innovative, economical road safety products that are effective and easy to install and fulfil the fundamentals of companyÕs philosophy: delivering innovative road safety solutions.