Samsung Machine Tools (SMEC) is represented at this year's Auckland EMEX exhibition by their New Zealand Agent Revolution Precision Machinery. The South Korean machine tool manufacturer is located in Gimhae City near Busan port and in 2013 moved from their existing factory into their new larger purpose built manufacturing and assembly facility in the Golden Root industrial estate.
 SMEC success has been entirely due to producing high quality, durable, and accurate CNC lathes and Machining Centres for the USA and European engineering industry. Consistent delivery quality of their machines is due to operating a complete in-house manufacturing system where quality and accuracy are constantly monitored through each stage of the build process. At the SMEC factory machine shop the machine iron castings are milled then precision surface ground on large bridge type machines.
 PICTURE: The Samsung factory.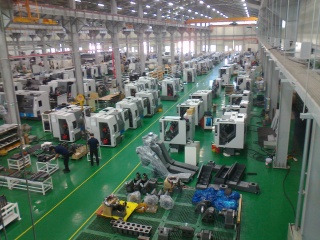 SMEC operates a large milling and grinding machine shop and their engineers are convinced that complete in-house control over the box guideway, carriages, and machine table precision grinding process gives accuracy and repeatability that can be difficult to consistently obtain when this high precision work is outsourced to subcontracting machine shops.
 After the surface grinding and inspection process machine beds are moved to the assembly shops where mechanical components are fitted and the electronic system installed. Once the assembly process is complete all machine tools start the comprehensive testing process where electrical operation and cutting accuracy are checked and documented. The documented process provides a history of each machines assembly stages and allows the final product to be delivered to SMEC high quality standard.
 This year's SMEC range of machine tools includes slantbed CNC lathes, Vertical Lathes, Vertical Machining Centres, and Bridge Machining Centres. At the recent South Korean Machine Tool Expo SMEC had many of these machines on display and received an excellent response from visiting international customers.
 For more information on the Samsung Machine Tools range of CNC machine tools contact Phil Robinson, sales engineer for Revolution Precision Machinery (RPMcnc) at EMEX Stand 3073 or phone CHCH 960 0892 AKL2650380 www.rpmcnc.co.nz