Manufacturers with robust environmental credentials improve their own business and ensure a stronger supply chain.
Customers at each level of the supply chain are looking for environmental credentials. After all, producers, distributors, and suppliers each benefit when the larger cycle is committed to reducing environmental impacts.
To encourage and improve a sustainable chain, procurement and purchasing at each step must consider environmental impacts. One large distributor working with dozens of suppliers in New Zealand is OfficeMax.
This office supply company is committed to responsible environmental stewardship in its own operations, knowing that "the third-party auditing and certification shows our customers that we really are walking the talk and actively making a difference."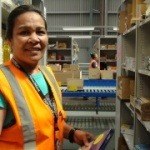 That credible work has led to a series of improvements, such as an impressive reduction in energy consumption and therefore reduced costs. Julie explains that "in our first two years our first site achieved a 26% year-on-year reduction in electricity usage. Nationwide, since 2009 we have been able to achieve a 5% year-on-year reduction."
The company is taking additional steps to ensure that its supply chain also benefits from the green advantage. OfficeMax conducts an annual review of suppliers, offering some suppliers mentoring and OfficeMax team support. To its own customers, it offers an EcoMax range and this range of products must have proven credible environmental qualifications.
Whether your products are distributed by OfficeMax or another company, being able to demonstrate environmental credential speaks volumes about your organisation's ethos, quality, and durability. While there are many types of credentials that might suit your organisation and sector, for many manufacturers an environmental management system or EMS helps you manage a wide range of aspects and impacts.
An EMS assures a manufacturer that they are considering their environmental processes, such as waste management, energy and fuel use, freight and transportation, or hazardous materials. These can lead to operational efficiencies and cost savings within the business, but an EMS also has advantages beyond the organisational boundaries.
Because an EMS ensures that risks are anticipated and addressed before they become a problem, this provides added assurance to partners. This can include risks within the organisation, such as health and safety or waste impacts, but also supply risks such as material access or cost or disruption to supply.
Further, as an EMS can be third-party verified against a standard, a manufacturer can state its environmental credentials with confidence.
The myriad benefits of a credible EMS aren't only for those with technical expertise. Programmes such as Enviro-Mark provide support and guidance for organisations wanting to develop or improve their EMS. The Enviro-Mark programme is a step-wise process with a focus on continuous improvement. And of course, independent verification each year assures you and your partners that you are doing the right work and doing it correctly.
Take a stance on credible environmental management with third-party verification for your environmental credentials and become an adaptable, dynamic, forward-thinking business and a valuable partner for the long term.