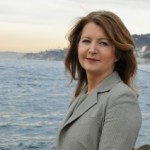 Goskin Duman, Country Manager – Turkey
Turkey continues to offer exciting opportunities for New Zealand businesses. Not only was bilateral trade at an all-time high of US$173.8 million last year, but relations are strengthening between New Zealand and Turkey with the commemoration next year of 100 years of ANZAC.
The Turkish economy continues to prosper with 4 percent growth in 2013, and 4.3 percent in the first quarter of 2014. There is a growing middle class hungry for products and services. Istanbul alone is home to 17 million people. Organic products, healthy food supplements and sophisticated food and beverage products show around 20 percent growth rate in the last five years.
With Turkey's unique geographic position straddling both Europe and Asia, the country is increasingly becoming a hub for multinationals supporting the Middle East, Europe and Africa.
Political unrest in parts of the Middle East is affecting exports, yet in 2013 exports reached US$151.7 billion. GDP per capita is now $US10.782 and increasing year-on-year.
Turkey manufactures 60 percent of all its industrial goods in an area stretching from Bulgaria to the Chinese border – in other words from Eastern Europe all the way down to Asia.
Turkey has started to become a major world player in a number of sectors. It is:
• the second biggest flat glass manufacturer in the world
• the fifth biggest automotive manufacturer in Europe
• the eighth largest shipbuilder in the world and fifth in mega yacht manufacturing
• the largest manufacturer of durable goods in Europe.
While trade between Turkey and New Zealand is increasing, it is off a fairly low base. New Zealand's traditional exports of butter and other dairy products, raw skin and aluminium have been the mainstay of our exports. But over the last three years we are seeing an increasing number of value-added products in sectors such as health, infrastructure, agritech and marine.
Infrastructure investment and public-private partnerships offer a number of opportunities – including the introduction of twenty new health campuses with up to 3000 beds each, which are being built all over Turkey.
The majority of New Zealand companies active in the market have a distributor, while four New Zealand companies have a physical presence or staff in-market. Fisher & Paykel Healthcare, Orion Health, Zespri, TAIT and Sourceworld are among the most active.
Inquiries from New Zealand businesses are on the rise which is pleasing to see, as this market and its opportunities become better known in New Zealand.
New Zealanders tend to be very well received in Turkey. As a number of Turkish business people have commented, Turkish companies like dealing with New Zealand companies because they can be trusted to do what they say they will do.
Turkey's business culture, like its geographical location, lies on a spectrum between East and West. If you're looking to do business in Turkey you must be aware that, as is the case in China, people generally don't have an appetite for risk. They prefer to do business with people they trust, like and respect.
Doing business in Turkey involves spending time understanding and developing relationships with other businesses. NZTE has recently opened an office in Istanbul to help New Zealand firms grow bigger, better and faster, so please don't hesitate to contact us if you want to find out more.