SouthMACH 2015 is the South Island's largest trade only exhibition and 2015's must attend event for anyone in the Manufacturing, Engineering, Machinery & Electronics industries.
Free to all registered visitors, SouthMACH will be held at the Horncastle Arena, Addington, Christchurch over two days from 22-23 July 2015 showcasing the latest innovations, equipment, technology, services and products to industry professionals, supported by educational and professional development seminars and workshops.
NZ's largest Trade Show organiser, XPO Exhibitions (XPO), are the proud new owners of this event and are delighted to be charged with rejuvenating and growing SouthMACH at a time when the manufacturing industry is taking off.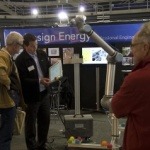 With over 30 years experience and organisers of the very successful EMEX industry event, XPO knows there is no better way to reach your target market to Showcase your product or services, Educate your customer on best practice, and to Sell directly to a quality and qualified visitor.
This year's event is forging ahead with strong exhibitor bookings and development of key features from some of New Zealand's newest manufacturing and engineering companies and who are leading the world in technology advancement and innovation. A full seminar program over the two days will provide a forum for education, discussion and the sharing of knowledge and expertise, critical in the sustainability and growth of the industry.
This, combined with VIP programs, a greater marketing investment and strong support from the nation's leading industry partners including NZMEA, Engineering News, NZ Manufacturer, Demm, IEDA and MetalsNZ, this year's SouthMACH will be Bigger, Better and Stronger than ever before. Not to mention there will be many great visitor prizes up for grabs including the chance to win a brand new Ford Transit Custom.
SouthMACH 15 will provide an effective, engaging and dynamic forum allowing those in the industry to connect and grow, and in doing so, foster the growth and development of many of the South Islands and New Zealand's manufacturing, engineering and technology associated businesses.
If your customers are manufacturing or processing goods or services, using General Engineering, Machine and Metalworking Technology, Plant Automation & Maintenance, Engineering Software & Computerisation, Welding, Cutting & Plastics Engineering, Fluid Engineering or measurement, Control & Instrumentation, SouthMACH 2015 offers opportunities you can't afford to miss.
Don't miss out on this exciting and exclusive opportunity to grow your business through engaging directly with 2500+ industry professionals and decision makers.