(Methven, NZ) Baskiville.com Ltd. has unveiled two new products that have the potential to substantially improve the safety, environmental protection and clinical performance of medical devices and related products made in New Zealand.
Baskvilles have been appointed by MicroCare Corp., a U.S.A.-based supplier of advanced precision cleaners, coatings and lubricants, to serve as the authorized source for both a new Universal Carrier Fluid and a unique SwellEx® silicone assembly fluid from MicroCare. With these two new products companies in New Zealand will have important new manufacturing choices that will result in more competitively-priced products that out-perform the competition.
The first innovation, the MicroCare Universal Carrier Fluid, is engineered as a drop-in replacement for flammable, smelly and toxic carrier fluids. The product is a custom-formulated, nonflammable carrier fluid optimized to dilute and apply medical grade silicone liquids to medical devices. This new formula provides a safe, reliable and nonflammable alternative to older, flammable carriers such as hexane or toluene carrier fluids.
The SwellEx assembly fluid is a smart, efficient answer to a different but troublesome problem. Many medical devices require leak-free seals on connections between devices and tubing. Because the fit needs to be tight, assembling those devices can be extraordinarily labor-intensive.
The SwellEx fluid accomplishes what the name implies: it swells the plastic tubing, allowing for fast and simple assembly. Then the fluid evaporates and the plastic tubing shrinks back to the original size and strength, forming perfect seals.
"Silicone has a long history as one of the most trusted biomaterials in the healthcare industry," notes Ian Fowler, Managing Director of Baskiville.com Ltd. "Now these two new fluids make using silicone parts or silicone lubricants far easier, safer, faster and ultimately less expensive. It's a win-win for New Zealand industry."
About the Universal Carrier Fluid
Silicone-fluid lubricants are commonly used to coat the disposable needles that are used for delivering or withdrawing fluids, and for suturing after surgery. The lubricious coating allows the needle to penetrate skin more easily, making the treatment less painful for the patient. However, silicone lubricants usually are very thick and viscous, so they need to be diluted prior to being applied to the metal surface. Until recently, the most common carrier agents were flammable and odiferous.
In contrast, the MicroCare Universal Carrier Fluid is nonflammable, high-purity carrier fluid with excellent materials compatibility and superior handling characteristics. This makes it a drop-in replacement for the flammable carrier fluids commonly used in the thin-film siliconisation of glass, metal, plastic and rubber surfaces.
Because the new product is nonflammable and odor-free, using it converts a complex process into a simple one with minimal hazards. This also makes it a technique that is easy to validate when coating glass, ceramic, metal and plastic surfaces.
"The MicroCare Universal Carrier Fluid saves engineers time and money because it offers easy process validation without new equipment or different process controls," said Tom Tattersall, chief operating officer of MicroCare. "It also gives engineers peace of mind from a health and safety perspective because the carrier fluid is stable and nonflammable."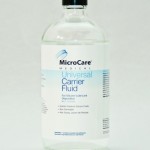 Another benefit to the MicroCare Universal Carrier Fluid is that it is available in several package sizes. It ships and stores as a nonhazardous, non-regulated liquid. The Fluid is compatible with all grades of stainless steel, brass, carbon steel and most nonferrous metals as well as most common plastics including nylon, HDPE, LDPE, PPE and PTFE. Elastomer compatibility also is excellent.
Silicone Swelling
The economic and physical properties of silicone — relatively low cost, resistance to antimicrobial growth, low extractables and easy sterilization —make silicone a desirable choice in the medical industry. However, working with silicone tubing or molded parts is not without difficulties, especially the challenges of attaching silicone tubing to molded or machined parts. Silicone tubing is prone to tearing, it does not expand or stretch without assistance, and it has a tacky, sticky surface. These three factors make fitting a silicone tube over a barbed fitting nearly impossible.
One effective solution is to use a "silicone swelling agent." These are fluids that can be absorbed quickly into the tubing, expanding it and softening it reliably and predictably. This allows the tubing to easily accept the fitting or rigid part. Once the part is in place, the fluid evaporates, and the silicone returns to its original size. This creates a tight and robust mechanical connection.
The MicroCare SwellEx fluid is based on volatile methyl siloxane (VMS) chemistry. VMS solvents are chemically similar to silicone tubing, which enables the product to quickly swell silicone while ensuring the physical properties of the silicone remain intact.
The selection of this chemistry makes the attachment process simple and quick. In fact, because the silicone only needs to increase in size by 1–2% in most cases, the entire swelling process can take less than one minute.
When the silicone tubing is inserted in the fluid, swelling begins immediately and at a very precise rate. The degree of swelling can be timed accurately in high-volume operations to ensure that efficiency is maximised.
Once the part is removed from the fluid, the swelling solvent evaporates and the part returns to its original state. The entire silicone swelling process, from start to finish, can be very quick when compared with other methods.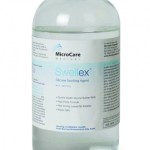 SwellEx fluids provide several advantages for companies. The most common class of silicone swelling agents — hexane solvents — have higher costs than SwellEx® fluid because hexane is highly flammable and needs special handling for safety.
Also, hexane is an extremely aggressive solvent, so materials compatibility becomes a concern (hexane will remove ink markings, for example). Hexane also is a volatile organic compound (VOC) that contributes to ground-level smog. Hexane solvents also can affect the long-term elasticity of the material, making the silicone part brittle.
Lastly, hexane has a very pronounced and annoying aroma.