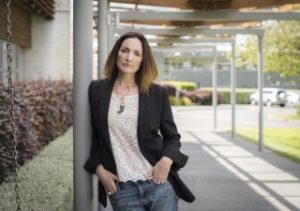 Members of the public have an opportunity to hear from Kiwi entrepreneur extraordinaire Claudia Batten at a free public talk being held at the University of Waikato on Friday, 13 March.
Ms Batten, a globally successful technology entrepreneur who has lived in the United States for the past 13 years, will be the guest speaker at an event organised by Waikato Management School's Alumni Board.
A regular speaker on digital innovations and building businesses for the future, she will discuss emerging trends in robotics, e-commerce, gamification, crowdsourcing and data.
Ms Batten was recently appointed as New Zealand Trade and Enterprise's regional director for North America, where she is tasked with the challenge of helping Kiwi businesses to break into the highly competitive markets of the US, Canada and Mexico. She is also a director of The Icehouse, an Auckland-based incubator company that helps small-to-medium-enterprises to grow.
The free talk will be held at the Gallagher Academy of Performing Arts from 6-9pm. Parking available from Gate 2B, Knighton Road, Hamilton. Following the talk, the public is also invited to attend a dinner with Claudia Batten, at a cost of $60 per person. If you'd like to attend the talk and/or dinner, email nwalm@waikato.ac.nz or phone 07 838 4477 by Tuesday, 10 March.
Ms Batten brings a wealth of experience to her new role at NZTE, having achieved great commercial success with many of her own start-up technology businesses over the past 15 years.
In 2014, she received a World Class New Zealand Supreme Award from the Kea New Zealand global business network, whose annual awards celebrate our most inspirational Kiwis living at home and abroad.
She was part of the founding team of Massive, a first-of-its kind network for delivering online advertisements to video games, which was later sold to Microsoft in 2006 for an estimated $400 million.
In 2009, Ms Batten used crowdsourcing principles to start the creative advertising agency Victors & Spoils in Auckland. A majority interest in the agency was sold three years later to the French company Havas.
More recently she has been working on a free social networking app called Broadli, which aims to "digitise serendipity" by helping people tap into their networks to help advance their projects.