Manufacturing software developer Delcam announces that Pete Baxter has been appointed to lead Delcam in the new role of Vice President. Pete joins Delcam from its parent company, Autodesk, Inc, where he was a Vice President of Sales and served as the country manager for Autodesk in the United Kingdom.
"I'm thrilled to announce the appointment of Pete Baxter as Vice President, Delcam Ltd.," said Buzz Kross, Autodesk senior vice president, Design, Lifecycle and Simulation. "In his new role, Pete will be responsible for managing the global Delcam business, and for leading the company in the next stage of its growth. Pete brings to Delcam extensive leadership experience and knowledge, critical in helping Delcam develop closer connections to Autodesk, to the benefit of both organisations and our customers."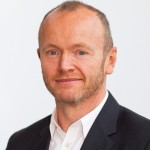 "I am delighted to be joining Delcam, and helping create the next generation of manufacturing software," said Pete Baxter, Vice President, Delcam, Ltd. "The company has an unrivalled reputation for the support and industry-leading products it offers to manufacturing companies around the world. I look forward to working with Delcam's staff and reseller channel to accelerate the growth of the business and to deliver an even better manufacturing experience to our customers."
Pete joined Autodesk in 2004, most recently serving as a Vice President in the Autodesk Worldwide Sales organisation. Prior to that, he held a number of other sales and management roles, including head of sales for Northern Europe, where he was responsible for sales across the Manufacturing, AEC, Media and Entertainment industries. Previously, Pete held management positions at companies including Revit Technology Corporation, Bentley Systems and PTC.