Multi-million-dollar roading and infrastructure projects are finally underway at the State Highway 6, new Eastern Arterial Road (EAR) and the State Highway Glenda Drive intersections in Queenstown, to the relief of Shotover Park developer, the Porter Group.
Porter Group CEO Alastair Porter said that after so many years the wider community would be delighted to see these roading projects getting underway.
"It's been a case of working with the New Zealand Transport Authority (NZTA) and the Queenstown Lakes District Council (QLDC) for many years to finally achieve this," he said.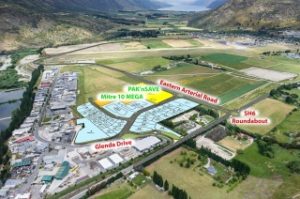 The new roading will access a new 8,000sqm Mitre 10 Mega store scheduled to open in spring 2015 and a future PAK'nSAVE supermarket.
"In addition to these there's approximately another 30 commercial industrial adjoining sites on the Shotover Park development that have been sold to predominantly Queenstown businesses, many of which are very keen to get on with their development," said Mr Porter.
"This is wonderful news for Queenstown because it will significantly expand affordable living opportunities and broaden the range of products and services which are desperately needed to underwrite Queenstown's continued rapid growth."
Mr Porter said the State Highway 6 Eastern Arterial Road roundabout project was "long overdue". He said NZTA had made it clear that a private funding contribution was essential for this project to proceed. For this purpose the Porter Group had arranged funding for two-thirds of the required private contributions.
Also to ensure that a connection between Glenda Drive and the new EAR could be open before next winter 2015, the Porter Group let a contract to Fulton Hogan in November to undertake pre-road earthworks and underground services.
"The whole community is aware of the number of accidents there have been at this intersection, let alone congestion problems," said Mr Porter. "For this reason we make no apologies for constantly lobbying for many years for this work to be done."