An ever increasing number of Ermaksan cnc sheetmetal machine tools are being installed in New Zealand engineering workshops.
Recently CNC Guillotines have become popular because of the ease of quickly setting the cutting parameters to produce a cut with the minimum of burr and twisting. The blade gap, blade rake, backstop, and cut length are set automatically from the information that was entered through the keypad or touchscreen into the controller.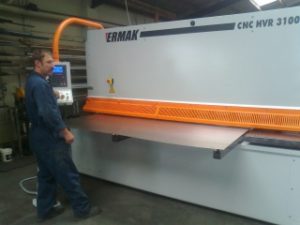 Compared to an NC guillotine the CNC system offers more graphical information and easier program creation, storage, and retrieval. Compared to nc systems, cnc controls also have better fault finding diagnosis information that is presented on the graphical display so servicing can be quicker and less costly for a trained maintenance engineer
The Ermaksan cnc guillotines that are recently installed have been into jobbing sheetmetal workshops that need quick and accurate setup of their machines by any member of the staff. As the cnc interface is clear and easy to understand there is little training required for staff to produce the required accurate cutting results.
CNC Pressbrakes have also been a popular Ermaksan machine tool in New Zealand as they are accurate, quick to setup, and repeatable. These features are critical to jobbing workshops who need to be able to rely on their staff to produce the required work correctly and with minimum involvement from the management. Ermaksan recently has moved all their Pressbrake production to cnc types so that the entire Pressbrake range has either Delem or Cybelec cnc controllers. The current popular Pressbrake cnc controller is the Delem DA66T with touch screen and continues a long history of reliable and accurate cnc controls from the Netherland cnc system manufacturer.
CNC CAM Software for sheetmetal profiling, punching, and folding is promoted by Revolution Precision Machinery to increase the productivity available from the cnc machinetools they are selling.
Productivity is increased by the software because job setup, progress, and information storage can be determined offline before the work starts. Job costing and quoting are also done by the software from the information entered by the job programmer. Machine tool operation and job progress-pricing can be determined directly from drawing files that are commonly sent as part of the pricing and quoting process for a sheetmetal business.
Revolution Precision Machinery engineers have the skills and experience to provide full technical support for the Ermaksan range of machine tools. The technical support offered is backed up by the manufacturers own service centre that provides a quick and detailed fault fining information and spare parts.
For more information on the Ermaksan range of CNC machine tools contact Phil Robinson or Quentin Rowe, sales engineers for Revolution Precision Machinery (RPMcnc) Email: sales@rpmcnc.co.nz
Phone: CHCH 960 0892   AKL265 0380 
Web: www.rpmcnc.co.nz