While solar panels can provide free power it's necessary to have good quality charge controllers to maintain the performance of the storage batteries.
The solar charge controller regulates the power collected by the panels to avoid damage to the battery through excessive charge or discharge at night. The best solar charge controllers can add as much as 30% to the life of a battery if they perform their job well.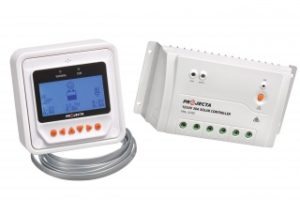 Leading battery accessory company, Projecta, has been at the forefront of this technology in New Zealand and Australia and it has now upgraded its range so they look as good as they perform.
The new Projecta 20-Amp and 30-Amp solar charge controllers have been re-designed in a new all-white casing that blends into any caravan, motor home or boat interior.
And, now included as part of the range is a remote control that allows the user to monitor and control their solar power system away from the controller.
Ideal for automotive and deep cycle batteries, the streamlined Projecta solar controllers continue to feature 3-stage charging, which maximises battery life and performance. The in-built temperature sensor adjusts the output, guaranteeing a thorough charge in all conditions, preventing over-charge or discharge, thus ensuring the battery is always ready for use.
The controllers are designed to be left connected to the battery indefinitely to keep them fully charged, monitoring its condition and performing a process called 'float' charge to maintain the battery in optimum condition.
The convenient 'low voltage disconnect' function will disconnect the DC load before the battery voltage falls too low, preventing damage resulting from over-discharge. Once the battery is recharged, the DC load will automatically reconnect.
Featuring 'load control' users can switch the DC load on/off without having to physically disconnect the load or appliance. When switched to 'off', the DC load is isolated from the battery which ensures maximum power conservation.
The circuit board within each unit has a special coating to protect against dust and moisture, as well as featuring short circuit, over current reverse polarity and high voltage protection, for improved performance and reliability.