The TGM Creative team (Rachael Smith positioned second-from-right and Andrea Leadbetter positioned middle).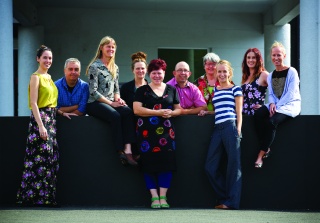 New Plymouth-based TGM Creative has made a rewarding entry to PrintNZ training programmes, with its print specialist/graphic designer Rachael Smith being named as one of five finalists in this year's Apprentice of the Year Awards.
With judges now in the throes of determining the ultimate winner, TGM Creative owner Andrea Leadbetter says the process has "really opened our eyes to the benefits of extra staff training".
"Rachael is currently our only staff member in a PrintNZ training programme and this is the first time we have entered this award," says Mrs Leadbetter.
"As a design, print, web and marketing agency working with many of Taranaki's largest organisations, it is important that the company offers the most qualified and experienced specialists across all areas and this qualification was no exception. We can now offer specialist print knowledge to the Taranaki business community that wasn't previously available."
In regards to Ms Smith specifically, Mrs Leadbetter describes her as being an "extremely organised person" who takes her role within the company "very seriously".
"Helping clients to produce the best solutions for their printing requirements is something she does on a daily basis, so completing her print apprenticeship one whole year early with three of her five assignments achieving excellence was no surprise to us.
"She also actively participates in assisting the organisation with continuous improvement and helping other staff members to improve their own delivery through streamlining systems, as well as regularly updating quality manuals.
"Additionally, Rachael has some medical challenges, so she has juggled this whole process in between regular visits to her specialist in Wellington, life-changing surgery and full-time work — and has co-ordinated it so she causes the least amount of disruption in the workplace."
Ms Smith says she is delighted to have made the final five.
"It's such an honour, especially as I'm regionally-located as opposed to being from one of the bigger cities — it just doesn't happen around here!" says Ms Smith.
Fascinated by art and design as a student, she describes herself as "one of the lucky ones" who has been able to turn her passion into a career.