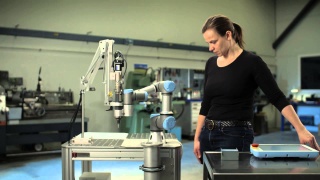 Industrial automation specialists Design Energy, has announced the launch of the new UR3 robot from Universal Robots into the New Zealand Market.
The UR3, which went through a three-year development phase, is an affordable tabletop robot that has a payload of 3kg and weighs a mere 11kg. It allows for 360-degree rotation on all wrist joints and infinite rotation on the end joint, ideal for tightening fasteners.
The size and price point of the UR3 is proving to be a great first step for any company looking towards automation. The user friendly touchscreen teach-pendant removes the steep learning curve associated with programming a typical 6-axis robot.
The light-weight compact robot can easily be moved around a number of processes to increase its utilisation and significantly reduce the payback period, which on average is less than 195 days.
Mike Shatford the Director of Design Energy can see an exciting opportunity for manufacturers who have not looked to automation previously, due the cost of the hardware.
"The new UR3 from Universal has significantly lowered the price of automating a process using a 6-axis robot. Manufacturers can now introduce an industrial robot into production at almost half the cost of technology which is currently available. We've been amazed by the variety of industries who have approached us about integrating a UR3 into their production.
The robot is extremely capable and easy to use…. When you combine this with the game changing price point, we can see the UR3 making a different for a large number of local manufacturers."
UR3 Key Features:
• 6 axis, collaborative table-top robot
• Weight: 11kg
• Payload: 3kg
• Reach: 500mm
• 360 degree rotation on all wrist joints,
infinite rotation on end joint
• Repeatability: ±0.1 mm (±0,004 in)
• 15 adjustable, advanced safety settings;
force limit: Default 150 N, can be
adjusted down to 50 N
• Modular design: exchanging a joint
takes less than 30 minutes with
one day delivery.
• New motherboard with faster boot-up
• Improved force control