The South's premier tech trade show has been reinvigorated for 2015, with new owners XPO Exhibitions working hard to ensure that visitors and exhibitors alike get great business value from the time they invest.
International and local exhibitors will inform, delight, entertain and do great business deals with industry professionals from all over New Zealand – and some from abroad – and the close to sold-out event.
Aad van der Poel, Sales Manager for the event, says SouthMACH is the South Island's premier technology trade show celebrating the heartland of NZ Manufacturing. "If you are an engineer – mechanical, design, consultant, electrical; machinist; communications technician/manager; supervisor; technical operator; operations manager or similar, then SouthMACH offers the tools, technology and services to work smarter.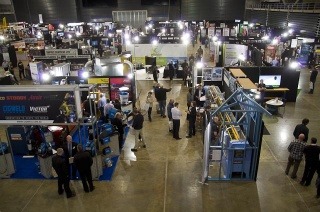 "With one visit to this show you can see all the big names from your industry and can really weigh up the benefits of each before you make the big decision. You can then be sure you are getting the very best. There's no charge to visit if you pre-register and, as a trade-only event, you can be assured that your time will be well invested. This biennial event gives you the opportunity to come face-to-face with the experts behind the key innovations entering the New Zealand market."
Aad notes that while there's plenty of time for those in the industry to register, time's running out for companies wanting to be seen at SouthMACH. "There aren't many spaces left. If you want to get your products and services in front of thousands of people keen to find the best and latest, then you need to act now and give XPO a call."
One of the businesses that made sure it secured its spot is kanDO Innovation Ltd and its TV star robot Baxter which is featured on this page.
Leussink Engineering will also be helping New Zealand industry keep ahead. "We've been manufacturers of the Demmeler world class Jigging & Fabrication systems for over 30 years, and are a family run business providing quality and time saving solutions," says Russell Brinkworth, Demmeler Account Manager.
"We have been exhibiting at SouthMACH for many years and we find visitors want to learn new technologies and witness state of the art equipment that could give their company the competitive advantage.
"People visiting our stand can get hands on and receive professional demonstrations outlining how Demmeler can improve productivity and provide quality components whilst reducing overall tooling costs. They will be able to discuss their company's requirements with proposals instantly formulated to their needs and any orders placed at SouthMACH will receive special pricing."
Robots, drones, and the leading equipment, machines and services to build new innovations – it's all at SouthMACH, at the Horncastle Arena Christchurch, 22 and 23 July 2015. It is a trade-only event, with free entry to those who preregister online at www.southmach.co.nz