By Alistair Fussell, Manager, Steel Construction New Zealand
 Structural steel is the material of choice in most of the world's major construction markets, including the USA and the UK where the market share is approximately 60% and 70% respectively. New Zealand is no exception.
 Our diverse steel construction industry – comprising manufacturers of structural steel and steel products, distributors, fabricators, designers, detailers, galvanisers, and paint and building supply companies – has worked hard to grow market share.
Today, structural steel's market share is more than 70% nationwide; in Christchurch, due to the material's proven seismic performance, steel has grown its share of the multi-level construction market to almost 80%, up from virtually nil prior to the Canterbury earthquakes.
 What's behind this dramatic growth?
 Quite simply, it's the industry's focus on innovation and investment: innovation in seismic and fire design; and significant investment in high-tech fabrication technology.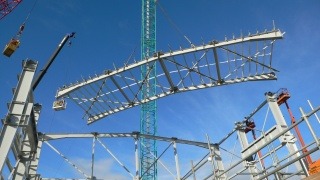 Since 2007, the New Zealand industry has invested substantially in new plant and technology: Grayson Engineering and D&H Steel in Auckland, and Pegasus Engineering in Christchurch, have all built new state-of-the-art workshops; and there are currently three new workshops under construction – Redsteel in Napier, John Jones in Christchurch and Calder Stewart in Milton.
 This commitment by New Zealand fabricators has boosted the industry's capacity, efficiency and quality. Indeed, the industry is well placed to satisfy the high demand for prefabricated structural steel, which is now similar to the 2007 peak.
 What's more, collaboration is playing a growing role in the successful delivery of structural steel projects. Christchurch is a good example of New Zealand fabricators working together to deliver structural steel projects.
 Compliance story
The recent boom in construction activity, centred on Christchurch and Auckland, has seen an increase in the amount of imported prefabricated steelwork entering New Zealand. However, with this offshore product comes the risk of non-compliance: there have been cases where paperwork has been missing or the steelwork does not meet the required specification, leading to costly project delays.
 To address this situation, last year the industry introduced the Steel Fabricator Certification (SFC) scheme. The scheme's focus is on quality assurance and removing risk for procurers and specifiers.
 As with other construction materials, the current compliance regime for structural steelwork relies, for the most part, on self-inspection and self-certification. The SFC scheme raises the bar by providing independent, expert certification of New Zealand fabrication companies.
 The scheme marks an important milestone for the industry and presents a key point of difference for locally fabricated steel compared with imported steelwork. Based on international best practice, this industry-led quality assurance scheme ensures participating fabricators have the appropriate personnel and quality management systems in place to ensure they manufacture product to the specified quality standard.
 So we're doing our bit to raise the bar of our own industry to ensure the quality and compliance of local materials and fabrication. And last year we welcomed the Government's new procurement rules, which introduce a focus on achieving value for money over the life of projects rather than the cheapest up-front costs.
 Now we're encouraging the Government to take the next step: ensure there are appropriate measures in place to ensure the compliance of imported product, which is of particular importance in our seismically active country. 
 Steel Innovations
New Zealand's structural steel industry is focused on achieving business and technical excellence; we've strived to grow our market share through innovation, investment in technology and market development.
 With this in mind, SCNZ will host the second biennial Steel Innovations conference in Auckland on 3-4 September. With a central theme of promoting technical excellence, the conference is a forum for disseminating the latest knowledge in the research, design and construction of steel structures.
Key topics of the two-day conference include seismic engineering, composite steel construction, fire engineering, durability and sustainability. SCNZ's annual Steel Agenda member event will be held at the same time and promote better business.