With less than two months to go there's a buzz around the South Island's – and one of New Zealand's – biggest and most anticipated engineering, machinery, industrial and technology events.
SouthMACH is well-known among engineers, machinists, communications technicians and managers, technical operators, operations managers and anyone involved in manufacturing. But with the show now in the trusted hands of New Zealand's leading trade event organisers, XPO Exhibitions, it's poised for take-off as the best ever.
"SouthMACH only happens every two years.  This year's exhibitor list is impressive with a range of new industry suppliers on board in addition to established ones. Visitors will be able to talk with global experts, get up close and hands-on with the latest tools, products, technology and services, take advantage of exclusive show-only deals, up-skill and stay current with a wide range of free and low-cost seminars, and network with fellow professionals to get great ideas and solutions to nagging problems.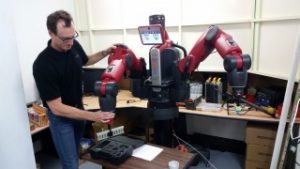 "It's not all business either, with break-out areas for relaxation and conversation, and the chance to win a brand new Ford Transit. All trade visitors have to do to be in to win is to attend SouthMACH, then visit the Ford stand at SouthMACH, and have your event badge scanned."
Other attractions – work-related, of course – at the South Island's premier technology trade show include the incredible "as-seen-on-TV" robot Baxter from kanDO Innovation Ltd.
kanDO Business Development Manager, Ash Taylor, says people are fascinated with Baxter. "Baxter is an interactive production robot that has been designed to work safely with human workers, yet be flexible enough to also adapt to a changes in production.
"Baxter will stop on human contact – it pauses its activity and will wait for its operating zone to become clear before resuming."
Baxter's not the only robot starring at SouthMACH. At the other end of the scale is the new UR3 – the world's most flexible, lightweight table top robot from industrial automation specialists Design Energy. "The UR3 went through a three-year development phase and is an affordable table top robot with a 3kg payload, yet weighs a mere 11kg," says Design Energy director Mike Shatford. "It has a 360-degree rotation on all wrist joints and infinite rotation on the end joint, so is ideal for tightening fasteners.
"The new UR3 from Universal has significantly lowered the price of automating a process using a 6-axis robot. Manufacturers can now introduce an industrial robot into production at almost half the cost of technology which is currently available."
So we've covered off on machines, technology education, major prize draws, robots – oh did we mention you can also see NZ made drones which could change the future of search & rescue worldwide? You need to register for this show right away!!!
SouthMACH is at the Horncastle Arena, Addington, Christchurch, 22 & 23 July 2015. It is a trade-only event, with free entry to those who pre-register online at www.southmach.co.nz