The introduction of Kiwi-designed innovative products has seen a New Zealand based exporter recognised in a new government-lead initiative to promote creative research and development in New Zealand business.
Heating appliance manufacturer Rinnai was assessed on their innovative practices by the Callaghan Institute, a stand-alone crown entity established in 2013, and tasked with encouraging innovative practice in New Zealand businesses.
In a new initiative, Callaghan Innovation is now using an international benchmark framework – the IMProve Innovation assessment – to gauge the success of Kiwi companies, and provide them with feedback on their competitiveness and sustainable growth in terms of the global market.
In the report, Rinnai was given an overall score of 63% for their innovation management performance, compared to an average score of 50% among 594 comparable companies from around the world in the machinery/equipment (plant construction) class.
Rinnai was also ranked higher than a category of global Growth Champions – a group defined as the top 10% of their category, based on the highest and most sustainable growth in sales, operational profit and number of employees over the last four years.
The outstanding results reflect a dedicated approach to innovation within the Kiwi company, says Rinnai's design manager Ben Hawkins, which has also seen sales growth of 109% since 2009, and currently exports to Australia and Japan.
"Rinnai has a real focus on innovation, and we have increased that focus in the last four years, so it's good to know the processes and practices we have put in place are working," says Hawkins.
Hawkins says products such as Rinnai's Neo Gas Fireplace (designed as an insert model into existing Masonry chimneys), which offered a simple installation with good efficiency performance and functionality that suits customers' needs, is a key example of the result of innovative practices at the company.
Meanwhile, systems at the Auckland-headquartered company such as fostering a culture of putting forward new ideas and creating a dedicated space for product development were also acknowledged as encouraging innovation.
"We have a saying at Rinnai that in order to have great ideas, you need to have lots of ideas," explains Hawkins. "In order to encourage everyone to contribute their ideas, we have a ROFI (Rinnai Opportunity for Improvement) system, where any team member from the factory floor to senior management can suggest ideas for improvement in any area."
"A large percentage of Rinnai staff members h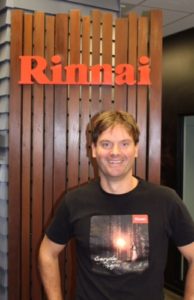 ave also had exposure to a customer-led design process, which seeks insights into the way our customers use our products. Plus we have created 'The Love Shack' – a creative space for brainstorming and product reviews that is designed to foster new and innovative ideas."
Achieving such high results in the innovation assessment will help cement Rinnai's reputation as a leader in innovation within New Zealand, and further afield, says Hawkins. "We have a strong brand built on the innovative control of heat delivering comfort to our customers, and these results back that up."
It will also help the company identify what can be improved upon in the future to continue succeeding. "It's a nice surprise to be acknowledged for these things, but we still have areas to work on as identified by the assessment," says Hawkins.