In the picture: FoodWaikato plant manager Dave Shute gives Economic Development Minister Steven Joyce a tour through the plant.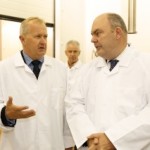 Economic Development Minister Steven Joyce today opened the $5m expansion of Waikato Innovation Park's FoodWaikato plant.
The expansion is expected to inject an extra $38.5m per year in export revenue back into the New Zealand economy from the sale of new, value-added consumer products directly produced there.
The first stage of the plant, a spray dryer facility, was opened in May 2012 and was funded by Innovation Waikato Ltd. and a Government grant of $3.95m and cost $12.8m to complete.
The second stage was largely funded by a $3m equity injection from Callaghan Innovation and allows specialty ingredients such as vitamins, minerals and oils to be wet blended with milk or fruit juice prior to being spray dried in the facility.
"The functional and regulatory constraint of the plant as it was, meant we were limited to processing liquids in the form they arrived in at the site, which created significant challenges for many of the target firms FoodWaikato was created to assist," said Waikato Innovation Park chief executive Stuart Gordon.
"Higher value products like infant formula and aged care formula tend to involve mixtures of ingredients, but mixing offsite and transporting to FoodWaikato created regulatory, product integrity and processing challenges.
"So we have added 'wetside' processing capability that now allows the mixing process to be done onsite, meaning FoodWaikato can now provide a greater level of development and innovation capability to dairy companies – cow, goat and sheep – as well as fruit and vegetable producers.
"We're moving from helping our customers manufacture ingredients that sell for around US$4700 per tonne to US$25,000 per tonne.  At full capacity, we will produce around 2500 tonnes of new, value-added products each year"
demand and will very quickly be operating at 85 per cent capacity with new customers including goat milk suppliers Fresco Nutrition, sheep milk suppliers Spring Dairy and Maui Milk, and Australian micro-encapsulated Omega 6 powders producer Nu Mega.
Mr Gordon said expanding the facility is all about helping more companies take their innovations to new export markets by offering the open access facilities. It will also see employment numbers grow from eight staff to 20.
"There's no other open access facility of its kind in Australasia where companies can manufacture smaller runs of their first commercial batch of a new product," said Mr Gordon.
"The only option for them is to build their own plant, which is cost-prohibitive for most companies – especially new market entrants.  FoodWaikato offers a unique solution to eliminate this major innovation barrier."
The expansion involved installing wet blending, separation and injection equipment within the footprint of the existing plant. Construction started in September 2014 and was completed last month.
Attendees of today's opening were invited to tour the new 'wetside' of the plant, as well as a tour of the original spray drying facilities.
Future plans for plant management include investigation into additional processing solutions for vegetable and fruit high value markets.
FoodWaikato is a subsidiary of Hamilton City Council-owned Waikato Innovation Park and is the Waikato component of the Government-sponsored New Zealand Food Innovation Network.