In the picture: Members of the Matua team learning on-the-job at the company's Matua Marlborough site.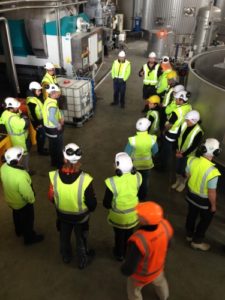 For national winemaker Matua Wines, supporting 73 employees working through nationally recognised certificates in competitive and core manufacturing on-the-job last year is a part of a training journey that has added training awards to the trophies it regularly wins for its wines.
"It's been a hugely rewarding process," says Matua Health, Safety and Environment Coordinator Paula Langford. "Over the year the company's seen significant improvements in competitive manufacturing, with our employees actively seeking out opportunities across our business."
The journey to Matua's success started in 2012 with a tailor-made training programme, Raising our Glass, which builds on the company's ways of working and strong safety focus. The programme also helps empower employees by building confidence and communications skills.
Training to the national qualifications industry training organisation Competenz supports plays an important part.
"Our team really value the chance to gain a qualification that's recognised nationally," says Paula.
Paula appreciates the way these qualifications can be flexible and tailored to Matua's needs.
"Working with Competenz we've built training programmes that retain our training style and methodology – and that's important to us. As well as rewarding staff, the programmes maintain Matua's safety-first focus and ensure our team is competent to industry standards."
Matua's global parent Treasury Wine Estates recognised the New Zealand business' success with a major award in 2013. Matua has been a finalist for other national awards for the role their training plays in lifting staff engagement. In the spirit of continuing to build nationally recognised skills, the Matua team is currently playing a leading role in helping Competenz launch New Zealand's first national cellar operations qualifications.