GOT A TRADE WEEK 2015 – 21-28 August – is part of a national campaign to raise awareness of on-the-job training and careers in New Zealand's trades and services. It also celebrates the talents and achievements of Kiwis making headway in their vocation.
New Zealand needs more skilled people in trades and services. The 2014 Talent Shortage Survey, conducted by Manpower Group, shows that engineers, technicians and skilled trades are among the top-five jobs employers have difficulty filling. Globally, skilled trades are the highest in demand.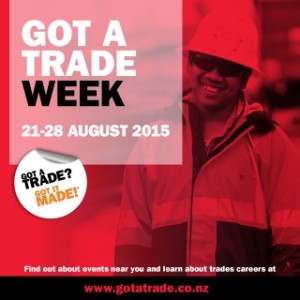 GOT A TRADE WEEK 2015 speaks to school leavers, as well as parents and teachers. More than 34,000 young New Zealanders, a fifth of people aged 16-24 years, are not currently working, studying or training. They are not developing the skills they need to compete in the workforce.
"Only 20 percent of school leavers go to university. This event is about showcasing the opportunities that exist out there for the other 80 percent," says Rachel Hopkins, chairperson of GOT A TRADE WEEK.
"This is an important conversation for jobseekers, for educators and for whanau. Around the world, countries are looking to apprenticeships and on-the-job training to build the skills needed for the future. New Zealand needs this too."
The inaugural GOT A TRADE WEEK 2015 encompasses more than 50 events nationwide, providing school leavers and parents with a unique opportunity to get up-close and personal with on-the-job training in New Zealand's trades and services.
Trades and services typically refer to jobs that require practical skills and on-the-job training. This includes everything from construction, engineering and transport, to hairdressing, hospitality and retail. There are hundreds of roles to choose from and long-term career prospects for young people who are keen to work and willing to learn.
Highlights of the week include:
• OPEN DAYS, TOURS AND TASTERS | 24-28 August | Nationwide
Take a tour of the workplace, see live demonstrations and meet apprentices who are already working in the industry.
• FUTURE BUSINESS LEADERS FORUM | 26 August | Auckland
Providing New Zealand's 'bright young things' in trades and services with the tools to further their careers.
• SPEEDMEET | 27 August | Wellington
Connecting school leavers with prospective employers in New Zealand's trades and services.
• WORKCHOICE TEACHERS' DAY | 28 August | Christchurch
Professional development for educators that offers a fresh perspective on the world of work.
GOT A TRADE WEEK 2015 brings to life the needs and aspirations of young Kiwis as they find their place in the world. Also, the sense of pride that comes from personal and professional development on-the-job.
At the heart of it all are 'our heroes' – bright, young, motivated people, who are applying practical skills in the real world and winning. This is their story.
See how 'our heroes' got it made.
Visit gotatrade.co.nz