Established sheetmetal and fabrication engineers Jericho Walker Sheetmetal have installed the latest Ermaksan Speedbend Pro 220T 7 Axis CNC Pressbrake. This advanced Pressbrake is equipped with the latest Delem DA66T touchscreen pressbrake control that provides fast and efficient programming and quick job setup.
Business owner Robert Jackson says "the Ermaksan is a strong, accurate, and fast pressbrake that fits our requirements for Jobbing work and also high production rate accurate folding".
Although this is a large pressbrake machine it is very fast in operation with servo amplifier systems on all axis. This servo drive system is superior in speed and positioning accuracy to conventional AC induction motors with variable speed AC drives that are common on lower cost or older NC and CNC machines.
Ermaksan has an excellent reputation for durable and strong machine tools with over 100 machines installed in New Zealand and full technical support and spare parts backup NZ wide from their NZ agent, Revolution Precision Machinery.
As part of the Jericho Walker Sheetmetal production expansion CADCAM software from European software developer ALMA will be installed and supported by Revolution Precision Machinery. This software automates the combined process of sheetmetal profiling, punching, folding, and job quoting and will increase the productivity available from their new and existing Laser, Turret punch, and Pressbrake cnc machines.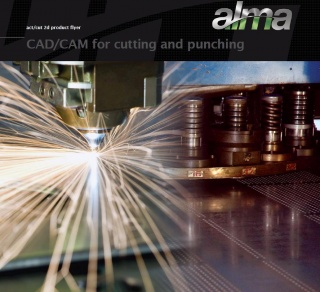 The software will increase productivity because job setup, progress, and information storage can be determined offline before the work starts. Job costing and quoting are also done by the Alma CADCAM software from the information entered by the programmer. Machinetool operation and job progress-pricing can be determined directly from the drawing files that are commonly sent as part of the pricing and quoting process for a sheetmetal and fabrication business.
Revolution Precision Machinery engineers have the skills and experience to provide full technical support for the Ermaksan range of machinetools. The technical support offered is backed up by the manufacturers own service centre that provides a quick and detailed fault fining information and spare parts.
For more information on the Ermaksan range of CNC machinetools contact Phil Robinson or Quentin Rowe, sales engineers for Revolution Precision Machinery (RPMcnc) Email: sales@rpmcnc.co.nz Phone: CHCH 960 0892 AKL2650380 Web: www.rpmcnc.co.nz