71% of Kiwi exporters expect international orders to increase over next 12 months
Over half (55%) have seen international orders increase over last 12 months
Trade with the USA has increased, despite Trump
Strength of competition biggest concern for exporters (42%)
Help with R&D considered keyway NZ Government could assist
Online orders and marketing still have a long way to go.
The 2017 ExportNZ DHL Export Barometer  shows Kiwi exporters are feeling confident and expecting orders to increase in the next twelve months. Optimism is very positive with 71% of New Zealand exporters expecting international orders to increase – this is a jump from 63% in 2016.
The research shows that overall 2017 has been a good year, with just over half (55%) of exporters achieving an increase in international orders.
While the survey was carried out prior to the NZ election, ongoing political support for the export environment will be crucial to ensure Kiwi businesses achieve the perceived upcoming boost to orders.
Exporters responding to the survey cited several key ways in which assistance from the New Zealand Government could help their business. Research and development assistance came out top at 26%, closely followed by help attending trade shows with other NZ companies, and more free trade agreements (both 25%).
The results show that trading with the USA has increased significantly over the past year, with more than half of Kiwi exporters sending orders to the USA and over half (55%) seeing the Trump administration as having a neutral impact on exports, while  41% thought it had a negative impact on exports.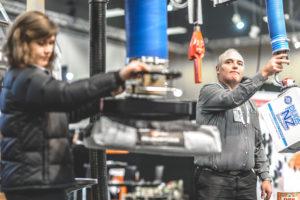 The fact that R&D has been flagged up as a key area for assistance is significant as more than half (52%) of exporters developed new products and services in a bid to boost export orders. Innovation can be a powerful tool for overcoming the 'strength of competition in overseas markets', which is the number one concern among exporters (42%).
Online commerce holds steady
The Barometer shows that while some exporters have embraced online commerce, not much has changed in the last two years. One-fifth of exporters generate more than half of their international orders online, including 6% who generate all export orders this way.
There is still plenty of room for growth as 26% said that none of their export orders are generated online.
China continues to grow in importance
While Australia remains by far our number one trading partner (72%), we are shifting towards the ever-growing China (30%) and away from our traditional chief trading partner, the UK (26%), post-Brexit.
However, overall, Kiwi exporters don't expect any major changes to our top ten trading partners in the coming years.
A joint initiative between ExportNZ and DHL, a total of 379 New Zealand exporters were surveyed for the ExportNZ DHL Export Barometer 2017. This research aims to provide Kiwi businesses and Government officials detailed feedback on exporter sentiment plus barriers to exporting and how to help reduce them where possible.