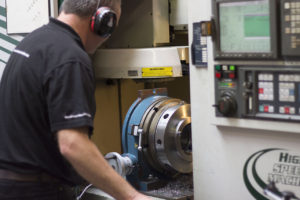 Sanpro Industries Ltd Petone.They supply the world from their Petone base and the Sanderson name has become the industry standard to all the big names in the exhaust system industry.
Sanpro: 100% Export; 100% Petone
Sanpro Industries Ltd Managing director and Founder Malcolm Sanderson loves getting up and coming to work each day, especially when there is a new engineering challenge to be solved.
"We are constantly improving and re-innovating our products," says Malcolm.
"That is our policy. Through constant testing, development and re-design we ensure we remain at the forefront of tube perforation technology."
My favourite quote is "Failure is the road to success". If you don't try, how do you know if you will succeed?
The key to their success is being able to change direction quickly to keep up with market changes: "We focus on quality and support not price; to stay ahead of the competition and build up repeat business."
Their main customers are the five major manufacturers who make and supply parts to 95 per cent of car companies in the world – from Mercedes and Porsche to Skoda and Kia, they all have a bit of Petone in them.
Starting in the late 70s making mufflers in his parent's garage at his home, Malcolm dreamed of a better and faster way to make the exhaust baffles rather than use the conventional method of rolling and welding perforated sheet – sparking the idea for the Sanderson perforating louvering machine range.
With their first machine built for a Malaysian client over 20 years ago still in operation today, they have now sold over 200 machines worldwide and export to more than 30 countries.
The Sanderson range has become the industry standard to all the biggest names in the industry and they are the preferred suppliers to the top five exhaust component companies in the world, being recognised as world leaders in their field.
These days their biggest emerging market is Mexico. Following the decrees of US President Donald Trump to take back 'in house' American car manufacturing, Mexico is now going it alone.
Although the United States still remains their strongest market.
Small = success
With several patents to their name, Sanpro have proved you do not have to be a huge company to compete on the international stage – and the remoteness of New Zealand has never been an issue.
This small but impressive family-run technology business now includes two generations of Sandersons among the 12 staff. Sanpro Industries was the 2016 winner of the Global Export Award, recognising excellence in export at the Wellington Gold Awards, after being a finalist the year before and in 2015 they took out the Innovation and sustainability Award in the Hutt Valley Chamber's Business Excellence Award.
Now they have joined the crème-de-la-crème of Hutt Valley businesses in that Chamber's Business Hall of Fame.
Sanpro Industries Ltd: proving continued technical innovation and a passion for what you do is a world-beating combination. www.sandersonmachines.com