Sistema Plastics Ltd has won the Technology Innovator award in the third annual Epicor Customer Excellence Global Awards program.
Epicor helps manufacturers harness data and automation to stay productive and profitable. The Technology Innovator Award category recognises customers who have used technology to drive innovation throughout their business to achieve measurable business growth.
Sistema uses Epicor to automate processes such as Sales Order entry and Invoicing using EDI, job schedule optimisation through MRP and advanced integrations with 3rd party Warehouse Management Systems, driving down costs and helping to better achieve their revenue turnover goals.
In its application Sistema had to demonstrate how Epicor's technology has positively impacted its customers, employees, and the business as a whole. The complexity and results achieved for specific projects were also considered in the judges' decisions.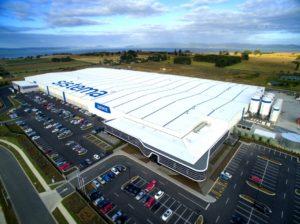 Drew Muirhead, Chief Executive Officer at Sistema Plastics says, "We are honoured to be recognised by Epicor with the Technology Innovator award. To be highlighted amongst our peers from around the globe is recognition of the hard work and pioneering spirit that flows through our business and team."
Sistema Plastics Ltd is a leading manufacturer of reusable, multipurpose quality plasticware. It ships from a single manufacturing plant in Auckland to over 90 countries worldwide.
To be competitive at this global level its production techniques and systems must be lean. It achieves this with advanced robotics, assembly automation and a fully automated ASRS warehousing system.
These are controlled by integrated software platforms including Mattec for machine monitoring, Epicor ERP for end-to-end business control and a WMS system for inventory management.
Greg Heely, Chief Technology Officer at Sistema Plastics, says that due to its remote location in New Zealand, the company has high logistics costs that need to be offset as much as possible.
"The Epicor ERP and Mattec MES systems have been an integral part of the business here at Sistema Plastics. They enable us to plan more effectively, gain further efficiencies and run an effective operation," he says.
Andy Coussins, Senior Vice President and Head of International at Epicor Software Corporation says, "Epicor solutions are designed to help our customers consume innovation with ease and drive business growth. It's rewarding to see how Sistema Plastics Ltd is creating value to its core business with our solutions," says Andy.