FARO, renowned for 3D imaging solutions for construction BIM, has an innovative set of 3D solutions specifically developed for AEC professionals.
FARO Indoor Mobile Scanner
As 3D Laser Scanning becomes more ubiquitous across various industries, there is an ever increasing need to make the scanning process and data processing more efficient. Conventionally, this has been addressed with a variety of mobile mapping solutions.
However, these solutions typically have limitations in terms of accuracy and data fidelity.
The Indoor Mobile Scanning solution enables kinematic 3D scans to be completed up to 7X faster than a series of traditional, fixed point scans over comparable areas. Thus, projects that took days can be executed in just a few hours.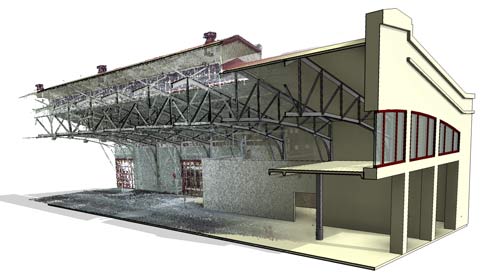 Additionally, as the Mobile Scanner includes fixed scan capability as a standard feature, users can simply switch to high-fidelity scan mode in real time for seamless integration with mobile scan data.
The Indoor Mobile Scanner solution combines several leading technologies, including FARO's patented Focus Laser Scanner technology, which have been optimised to operate in concert.
Current owners of Focus Laser Scanners or ScanPlan products will have a simple upgrade path to the Indoor Mobile Scanning solution, which protects their original purchase investment.
FARO As-Built Modeller
FARO As-Built Modeler Software enables AEC professionals to leverage the smoothest Scan to BIM workflow in the industry to date. As-Built Modeler is specifically designed to minimise the effort and time required to create as-built documentation, which is the main task across AEC professionals in the building, facility and infrastructure design phases.
This comprehensive and innovative platform automates many cumbersome processing steps that must be performed manually today. Powerful tools allow the easy creation of CAD objects that can be directly imported in any CAD system independent of the specific CAD software, dramatically simplifying the modelling workflow for FARO users across the AEC industry.