Being acquired in April by Australia's GWA Group will only create more opportunities for shower and tapware company Methven, one of New Zealand's oldest and most innovative.
Founded in 1886 in Dunedin as an iron and brass foundry, Methven still has its customer service function in that city today, with its head office and a factory in Auckland.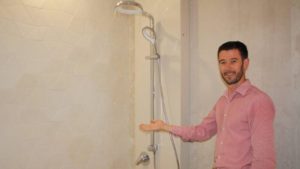 Methven brand director, Matt Jones, says the company hasn't always been about showers and taps either, with it even making ammunitions for the New Zealand Army during the war years.
It wasn't until 1896 that the company started making taps, as well as copper laundry vessels, and while it's stuck with tapware, it's expanded into valves and also shower products that are known for their innovation and design.
As for what being acquired by GWA Group will mean, Mr Jones says simply a bigger offering for customers.
"Methven becoming a subsidiary of GWA Group just makes sense. It brings a collection of strong, complementary kitchen, bathroom and laundry brands together that cover the commercial and residential markets, and clearly there are benefits in increasing our product portfolio overseas."
In 2018 Methven generated 31 per cent of its revenue domestically, 42 per cent from Australia, 25 per cent from the United Kingdom and the remainder from China and other Asian countries.
Following the acquisition, GWA Group now has 143 staff in NZ, with the new parent company committing to keeping New Zealand as a design and innovation base. GWA Group also compete in sanitary ware, showers, tapware, sinks and tubs with the Caroma, Dorf and Clark brands.
Mr Jones says that since 1995 when Methven launched FastFlow, its technology to address flow and solve water pressure issues in homes, it has cultivated a culture of innovation based on what its customers want.
"Innovation must be driven by customer demand. Focus on your customers' needs and delivering against those. You need to be really clear about what your point of difference is over your competitor, and have a ruthless dedication to innovation, even at the expense of immediate profit sometimes."
Giving things a go seems to go hand-in-hand with innovation and the Kiwi mindset, says Mr Jones, and the openness and willingness of people to share their knowledge creates opportunities that benefit everyone.
"One of the challenges of New Zealand is that while it's a developed market it is pretty small, so it lacks the economies of scale. That just means we have to be nimbler and more flexible, and doing this and other things differently is essential to the success of any Kiwi business."