Asset integrity solutions provider, Stork Technical Services New Zealand Ltd (Stork) has been certified ISO 45001: the global occupational health and safety management system standard in August 2019. Introduced in 2018, ISO 45001 provides a framework to develop health and safety management systems which improve employee safety, reduce workplace risks and create better, safer working conditions.
Says Janice Halliburton, HSEQ Manager at Stork: "When ISO 45001 was published last year, we chose to upgrade from our previous accreditation AS/NZS 4801. Following a year of hard work by our team, integrating the system into our way of life, we underwent a three-day audit and were certified as compliant with no non-conformance through auditing body Telarc."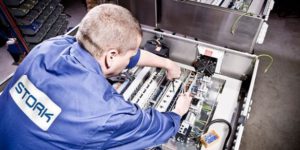 Areas covered by ISO 45001 include: Hazard identification, risk and opportunity assessment; emergency preparedness and response; communication; as well as monitoring, measurement, analysis and performance evaluation. The standard also adopts Annex SL a management system format that allows for easy consolidation of an integrated management system with ISO 9001:2015 and ISO 14001:2015.
"Integrity and client satisfaction is of great importance to us. Through our head office in New Plymouth, we now have a fully integrated management system being certified for Quality: ISO 9001: 2015, Environment: ISO 14001:2015, Health & Safety: ISO 45001 and accredited with IANZ," says Rob Sullivan, General Manager and Director at Stork.
The ISO certifications supports the company's IANZ accreditation, proving the company has a quality management system. "Clients can have confidence in our consistency of service quality, delivery and credibility," concludes Sullivan.