In the picture:
Innov8taiao (steel is sustainable) Award.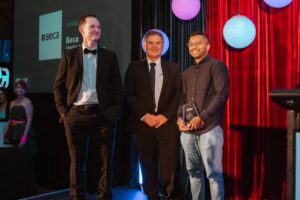 The heavy engineering industries' top innovators and changemakers were recognised at the HERA Future Forum Nation Dinner on 5 May 2023 at the Christchurch Art Gallery Te Puna o Waiwhetū. Sponsored by New Zealand Steel, the awards celebrated the significant impact that individuals and teams are making across Aotearoa, honouring outstanding projects, innovations, and research that demonstrate leading vision and contribute to success within their respective industries.
Dr Troy Coyle, HERA's CEO, says, "I would like to congratulate the winners, finalists, and scholarship recipients for 2023. All of the work they do across the country invaluably contributes to the success of the industry and nurtures the values that will ensure we are servicing a better tomorrow. It is a privilege to acknowledge longstanding dedication, alongside new leaders and up and coming talent."  
The 2023 award winners are:
Keith Smith Memorial Award – Geoff Bird, Structural Technical Development Manager at Beca. Geoff's contribution to the industry is a longstanding one, supporting HERA's Structural Division in 1983 and moving on to become the Structural Manager of New Zealand Steel in 1992, where his work became instrumental in the widespread use of structural steel in multi-story buildings.
Geoff is a significant knowledge benefactor for the industry, participating in HERA's Steel Research Panel and SCNZ technical working groups. He is also an honorary lifetime member of the Structural Engineering Society (SESOC) and a Fellow of Engineering NZ.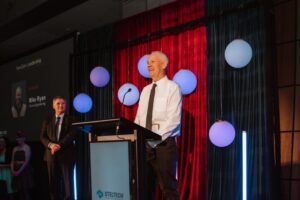 Next Gen Leadership, Leading Metalmind Award – Mike Ryan, GM of Operations at Farra Engineering. Mike impressed the judges with the breadth of projects for which he was able to achieve the seemingly impossible, as a result earning the informal title 'guru of solving crazy engineering problems for the hydro industry'.
His problem-solving work at the Burrinjuck Hydropower Station in Australia avoided a costly shutdown, saving 15 million dollars and extending its life by a further 15 years.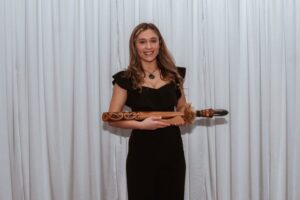 Whanake Scholarship – Lydia Frater was congratulated as the 2022 scholarship recipient. She is at the University of Canterbury, studying towards an honours degree in engineering, with the intention of completing a bachelor degree in civil engineering.
Steel Research Student of the Year Award – University of Auckland's Fanqin Meng. Fanqin's research is important to understanding structural steel's performance in severe fire, in particular the performance of beam to column sub assemblages in gravity resisting systems of steel structures which has led to more realistic strength reduction factors for columns in fires.
Fab 4.0 Award – Farra Engineering (Welding Technology). Quality work and improving supporting processes and systems have been a strong focus for Farra Engineering. As a result, this has led to a reduction in the number of hours required to complete the fabrication of complex machines, and more importantly a significant reduction in rework cost.
Fab 4.0 Award – MJH Engineering (Welding Skills Development). To combat the shortage of trained, skilled, and competent welders, MJH Engineering developed an inhouse training programme to recruit, train, and employ skilled welders in conjunction with the utilisation of CNC technology to improve productivity.
This has led to a significant reduction in the time it takes for graduates to receive their welding tickets and become qualified with the main welding accreditations.
Innov8impact Award – Dr Shahab Ramhormozian for his project "Sustainable Earthquake Resilient Buildings for a Better Future". This $9.47 million Endeavour funded research program will develop systems so that buildings will suffer no structural damage under severe earthquakes or associated fires, therefore significantly reducing the cost of earthquakes on the built environment and improving intergenerational wellbeing.
Innov8change Award – Tīra for exporting spiral welding innovations. Received in memory of Wayne Taylor who was the inventor of spiral welding, this innovation reflects a business on a path of automation and innovation.
This reshaping of Tira has opened it up to new markets and expanded their footprint offshore when it comes to their novel automated spiral welding technology, and unique expertise in process vessels.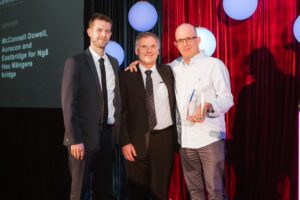 Innov8rerehua (steel is beautiful) Award – McConnell Dowell, Aurecon and Eastbridge. McConnell Dowell, contracted by Waka Kotahi NZ Transport Agency, replaced the 105-year-old Mangere Bridge with a new 260m long stunning piece of structural engineering that is a focal point that reflects its local landscape. Designed by Aurecon and predominantly fabricated by Eastbridge, Ngā Hau Māngere connects the communities of Onehunga and Māngere Bridge on either side of the Manukau Harbour.
Innov8resilience Award – WSP and Waka Kotahi NZ Transport Agency. The "Steelwork Durability Documentation Suite" relates to the coating of steelwork on highway structures such as bridges, and will be integral in raising the quality of the protective coatings industry in Aotearoa New Zealand and the durability potential of structural steel in the built environment.
Innov8taiao (steel is sustainable) Award – Beca. The project "Adaptive reuse of steel in the Civic Administration Building" resulted in 100 percent reuse of the 1900 tonnes of structural steel frame and gave it a new lease of life as high-end central city apartments. The resultant reduction in carbon footprint was 6,150 tonnes of CO2 equivalent emissions.
The HERA Industry Awards recognise those who have significantly contributed to the industry's success. The awards were aligned with the Future Forum Conference, which is about building a tribe of Metalminds and casting a collective gaze to the future, so the industry can prepare for disruption.