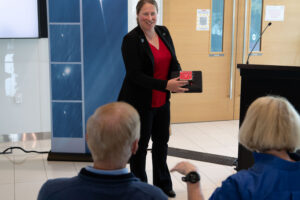 Dr Sarah Kessans.
 A research facility prototype developed in Christchurch will soon orbit Earth aboard the International Space Station (ISS) under a partnership between the Ministry of Business, Innovation and Employment (MBIE) and US space company Axiom Space.
The facility for studying protein crystal growth in space, developed by Senior Lecturer at the University of Canterbury's School of Product Design, Dr Sarah Kessans, in collaboration with teams from Arizona State University and Christchurch companies Asteria Engineering Consultancy and Intranel, was one of two projects selected for initial feasibility studies in 2022.
"We signed a Memorandum of Understanding with Axiom last year and agreed to two feasibility studies, one of which led to Dr Kessans' project," MBIE Director of Innovative Partnerships Joe McKay said.
"This facility could lead to major advances in medical, biotechnological, food science, and agricultural innovation and we are excited to support the next step."
Sarah's research facility is scheduled to fly on Axiom Mission 3 (Ax-3) later this year, which will be the third private astronaut mission to the ISS.
"Being able to conduct this research on the ISS is such a huge opportunity and really is critical to what we're trying to achieve in terms of scientific innovation and future commercial outcomes," Sarah said.
"When protein crystals are grown in microgravity, they can develop into larger and higher quality crystals than what we can grow on Earth. These crystals can then be used to create high-resolution pictures of the protein's structure. If we have a detailed picture of what virus proteins look like, for example, we can develop things like antiviral drugs and vaccines."
Current facilities for protein crystal growth on the Space Station require significant time and resources for astronauts to mix samples, set up experiments, observe growth and adjust settings as needed. By developing a facility that is self-contained, autonomous, and allows for on-orbit analysis of thousands of experimental conditions, Sarah hopes even more research can be conducted at a lower cost into the future.
"We can do a lot of analysis up in microgravity and can gain a great deal of information from the real-time data that we will be able to downlink during the experimentation on the ISS," Sarah explained. "But the real value is in being able to get those experiments back to researchers on Earth for further analysis."
"That's why we're excited to be sending the first prototype of our facilities to the International Space Station with Axiom Space. This initial project represents just the beginning of what we hope to develop into an entirely new industry in New Zealand at the interface between aerospace and biotechnology."
Aotearoa New Zealand's partnership with Axiom Space, especially as they transition to operation of their future commercial space station in low-Earth orbit, will create opportunities for commercial microgravity research. Under the partnership agreement, New Zealand has also joined Axiom Space's Access Program, an initiative to grow space ecosystems alongside governments from around the world.
"This membership is a natural move for New Zealand, which is already contributing to projects that will fly on future Axiom Space missions," Joe said.
Other local research set to fly to space includes a new superconducting magnet technology demonstrator, developed by Paihau—Robinson Research Institute, Te Herenga Waka – Victoria University of Wellington and hosted on Nanoracks's (Texas, USA) test facility on the outside of the ISS.
The experiment is a key milestone which will lead to the development of an extremely efficient in-space propulsion system. This research is expected to fly in 2024.