Empower Software have pioneered engineers' and manufacturers' use of labour productivity software using touch screens on the workshop floor, since commencing business in 2002.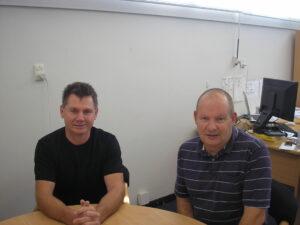 Empower Software is cloud based, an Add On and an App; manufacturing clients interface to their accounting software.
Empower is supplied and supported as SaaS (Software as a Service), low cost monthly fee based.  They currently have 240 manufacturing and engineering clients, mainly throughout Australia and New Zealand including US, Canada, UK, South Africa and the Philippines.
There are an estimated 80,000 SME based manufacturing and engineering businesses throughout Australia and New Zealand, 80,000 businesses an estimated 30% still use manual time sheets "today" for workshop staff to manually record their jobs and times worked on each job.
An estimated 60% do not track their workshop staff time on their jobs at all because manual time sheets produce information that is "too little, too late, too inaccurate and too costly to produce".

Manual time sheets cost approximately $80 per workshop staff member per week to produce; in comparison the Empower Software App is approximately $15 per staff member per week – so it is an obvious substitution to adopt technology and use the Empower Software App.
Empower Software suits manufacturers and engineers who wish to replace manual time sheets, as well as those manufacturers who wish to commence tracking time on jobs for the first time, using technology.
Lean manufacturing, Digital Manufacturing, Industry 4.0 are all being heavily promoted to Australasian and NZ manufacturers by government and industry groups as the means to be labour cost competitive and Empower Software "rides that wave".
Touch screens on the workshop floor and Empower deliver for 90% of manufacturing clients a 20% to 40% reduction in labour times on jobs and 20% to 40% reduction in labour cost on jobs (view https://www.empowersoftware.co.nz/testimonials-news/clients-testimonials/joiners-panel-timber/).
A manufacturer or engineer with, for example, 10 workshop staff can achieve 80 hours minimum additional production per week and $6,400 additional revenue per week (at $80 per hour overhead rate), which is $313,000 additional revenue per year.
This $313,000 additional revenue per year is largely additional profit because all overhead costs are already incurred in existing production levels. This is $3.13m largely additional profit over 10 years.
 Clearly, this technology delivers substantial production gains and substantial financial gains.  Empower do not charge for client requested software development and this has fuelled software development, 240 clients – some 720 managers – contributing ideas for improvements over 21 years has made Empower the world class proven software it is today.
Key Milestone achievements over the years:
2004  First Australian client
2012  Rebuilt code to be Cloud based
2014  Developed real time automatic Job Scheduling
2016  Clients commenced installing 60 inch TV screens in their production offices and workshop presenting real time information on Jobs, Tasks, Individual Staff and Job Times
2021  Developed a world class web site including 104 manufacturers and engineers detailed 2 page client case studies – across 37 manufacturing and engineering industry groups
2023  Client base including large number of very progressive industry leading "lighthouse" manufacturing and engineering businesses including: Australia – Rheem Hotwater, New Age Caravans (owned by Walkinshaw Group), Austral Clothes Hoists, Grainline Agricultural, Peppertree Furniture, MARs Transport, Munro Post Drivers.  New Zealand – Stabicraft Boats (3 factories), Trailite Campervans, Express Sheet Metal, Donovan Engineers, Carac Engineers, Easy Access, Rata Industries, TMC Trailers to name a few
2023  Partner with and interfaces to accounting software; Xero, Quickbooks, MYOB.  Partner with and interface to ERP software: Accredo, MYOB Exo, MYOB Advanced, MYOB Greentree, MS Navision/MS Dynamics, CIN7 and Unleashed
2023  Partner with progressive Enterprise Software reseller implementers including: Production Management Services, Bruntons, Endeavour and Axsys