A major international healthcare summit to be hosted in New Zealand is set to boost export access for Kiwi health, tech and food product manufacturers into over 10 nations with a combined GDP of US$33 trillion. 
A number of foreign dignitaries will be among the projected 10,000+ international and domestic attendees at the event, which is also expected to benefit the tourism sector and the local economy.
Guests include health policy specialists from United Arab Emirates, China, Indonesia and Singapore. Government and industry representatives from Vietnam, Japan, Malaysia, Thailand,  Egypt, UK, Germany and Kazakhstan are also expected to attend.
A number of the country's healthcare organisations and largest food exporters including St Johns, Fonterra and Zespri have also confirmed they will use the event to promote their products to buyers from countries with a population of over 2 billion.
In addition, buyers from China's largest e-commerce platforms including Alibaba, JD.com, Meituan and Kuaishou are also set to attend – as they look to grow the number of their New Zealand suppliers.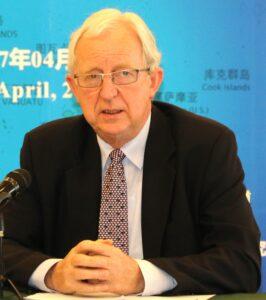 Tony Browne, former New Zealand ambassador to China and chairman of the Council of Next Federation, the event organisers, says the High 5 "Post Pandemic" summit, will include a series of seminars, forums, workshops and exhibitions focusing on economic recovery, mental health, telemedicine, ageing wellness, PPE and education.
"The event will provide attendees with the opportunity to engage with industry leaders as they share industry policy research and market insights dealing with challenges facing the health industry.
"We will also provide a centralised procurement platform for exhibitors to connect with international buyers and health experts.
"While New Zealand has established trading relationships for food and beverages there is an increasing opportunity for us to look at growing health supplements and health tech exports.
"The event will enable participants to identify target customers, build industry relationships, and promote new products and unique brands," says Browne.
William Zhao, Next Federation executive chairperson, says while primarily focused on healthcare, the event will also help boost export access for New Zealand's technology and food firms.
Zhao has more than 30 years of international business management experience in food production and played a critical role in the investment and establishment of China's first milk powder production factory in New Zealand.
"The High 5 summit was created in essence to enable participants to seek and share health insights and developments in a post-pandemic world.
"New Zealand's food and technology sectors have an increasingly important role to play in global healthcare and the objective of the expo is to help facilitate this through greater collaboration across industries," he says.
Zhao says the event will be supported by a wide range of international organisations and Government agencies including the China Chamber of Commerce of Foodstuffs and Native Produce (CFNA), the Indonesian Artificial Intelligence Association, the Singapore Economics and Management Institute and the Chinese Ageing Well Association.
The High 5 New Zealand International Health Industry Expo will be held in Auckland on 25-26 November 2023 at the Due Drop Event Centre, Manukau City.