Matahio Energy has completed the acquisition of a portfolio of six onshore oil and gas licenses in the Taranaki Basin, NZ.
Matahio will be the operator of these licenses, holding 100% participating interest in four licenses, and 70% interest in the remaining two licenses. Of the six licenses, three are currently producing. The sale and purchase agreement between the parties was signed in March 2022. All required approvals for the relevant New Zealand regulatory authorities have been obtained to complete this transaction.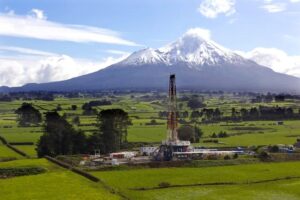 Key highlights of the transaction:
– Operatorship of two fields, namely Cheal and Sidewinder, which are currently producing a total of 1.4 Kboepd (thousand barrels of oil equivalent per day), net to Matahio. Cheal and Sidewinder are well-established, prolific fields, which have produced over 5 MM bbls (million barrels of oil) to date, since the first oil in 2008.
– Matahio is adding 2 MM boe (million barrels of oil equivalent) 2P reserves (Net, effective date 1st January 2023). At prevailing oil prices and contemporary OPEX rates, the Cheal and Sidewinder fields are expected to generate positive cash flow until 2030. The New Zealand business's EBITDA for the calendar year 2022 was NZD$29 MM.
– The transaction also includes full technical and operational teams, based in New Plymouth, who have a track record in delivering strong health, safety & environment (HSE) and production performance. Most notably, recent production optimisation efforts have resulted in production rates returning to 2015 levels without drilling any new wells.
– Matahio has crafted a multi-year development programme consisting of infill and step-out drilling as well as the appraisal of newer fields in the Puka license (which was 100% acquired by Matahio) to be tied back to existing operated infrastructure. This organic growth programme targets an additional 3.8 MM boe and, if successful, will ensure more than 100% replacement of reserves across Matahio's portfolio. Coincident with this transaction, the first Cheal infill well as part of this programme is currently being completed.
– Matahio has constructed a bottom-up greenhouse gas reduction plan that projects the New Zealand business to be "net-zero" by 2030. A significant component of this plan is a deep decarbonization of the operation, for which a number of projects have been initiated in 2023, targeting an immediate impact on Matahio New Zealand's carbon footprint.
– Under Matahio ownership, cash contributions will continue to be made to an escrow fund that ultimately covers future abandonment liabilities.
– Matahio Energy New Zealand has already committed to several Taranaki partnerships and sponsorships. This transaction now opens the door to other opportunities to collaborate with the Taranaki community.
The CEO of Matahio Energy, an independent energy company establishing a presence across Southeast Asia and Australasia, is Dr Wai-Lid Wong.   The company is founded and led by a dynamic team of experienced professionals, whose resilience is borne out of successfully steering other oil and gas companies through unique challenges.
Matahio Energy is the 78.8% owner and operator of the Galoc Joint field, situated 60km offshore Palawan, Republic of the Philippines, and 100% owner of the FPSO Intrepid Balanghai, which is currently stationed on the Galoc field.
Matahio owns and operates a portfolio of onshore assets in Taranaki.