It is not that long ago that portable welding machines were seen as heavy, clunky equipment. Limited in their capability, they could usually only perform one type of welding, such as stick, TIG or MIG. And because of their power output, were mainly relegated to performing light and small welding tasks.
Over the last 20 years however, portable welding machines have evolved significantly. While single-process welders are still available in the marketplace and no doubt have a place in the industrial landscape, operators can now also choose from a wide range of multi-process machines.
These provide greater convenience and flexibility as they can be used to tackle various fabrication or construction jobs and projects both in the workshop and out in the field without the need to switch power sources.
Greater productivity
Apart from the ability to tackle a wider variety of work, quality portable welders also help deliver excellent welding results. According to Paul McVicar, Managing Director, Kemppi Australia, this is because of the machine's stable arc.
"Quality portable welding machines usually provide a very stable and even arc that allows the user to deeply penetrate various metals and produce consistent, high-quality welds. This reduces the need for reworking the weld as well as post-weld cleaning, which allows the operator to increase their output, while saving them both time and money," explains Paul.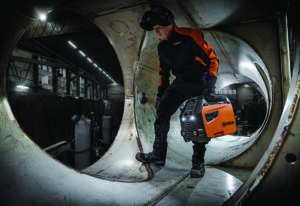 Also contributing to improved productivity is that modern portable welders are far more powerful than their predecessors. Today, operators can choose a portable multi-process machine that has a 320 A with a 40-60% duty cycle. Or a 200 A with a 40% duty cycle.
The greater amperage combined with the higher duty means that machines such as the new Kemppi Master M 205 let the welder safely create quality welds for a longer period of time to help maximise productivity.
Lighter and easier to carry
The modern, portable welding machine is also far more compact than earlier models. Smaller and often made from toughened plastics, the welders are lighter and easier to carry and transport. This allows operators to take them almost anywhere including into confined spaces. Their small size also means that the portable machines are easy to store.
Feature rich
While functionality was lacking in earlier models, today's range of portable welders provide the professional welder and hobbyist with far more features. Equipped with safety features as well as advanced functions such as LED lighting, memory channels, pre-installed welding programs, and in-build technology for fast parameter setup, modern portable welders have the capability to deliver high-power performance for a range of welding tasks.
"Whether you're welding indoors or outside, thin or thick metals, the better portable welders we have today let you undertake repair and maintenance tasks as well as fabrication and different projects without compromising on quality or safety. They really have come a long way," said Paul.