Kemppi Australia's annual Art of Welding Competition is now open for 2023. The competition showcases "welding art" which can take the form of a welded sculpture, pattern design, a motif or an object. The welding process involved to create the art piece can be manual or use more advanced techniques such as robotics, lasers or friction welding.
The competition is open to both professional artists and amateurs. It encourages individuals, whether they are welders, apprentices, teachers, hobbyists or professional metal artists to exhibit their creativity.
"There is an abundance of creativity in both Australia and New Zealand, not just among our great professional artists, but also among ordinary individuals, and we are really proud to be able to again run this competition to showcase their flair," said Paul McVicar, Managing Director, Kemppi Australia.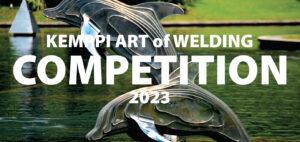 This year, the competition will again feature a dedicated amateur category. Entrants can win from a pool of four great prizes that include Kemppi welding equipment, helmets, clothing and gloves.
The competition will run until Friday 29th September and is open to anyone in Australia and New Zealand over the age of 18. For more information on how to enter visit the Kemppi Australia Facebook, Instagram or LinkedIn pages or message Kemppi Australia's social media pages directly or email skettos@skettos.com.au for a copy of the competition flyer. Alternatively, visit https://www.cognitoforms.com/KemppiAustralia/KemppiArtOfWelding2023CompetitionEntryForm for access to the entry form.