Dr Barbara Nebel, CEO, thinkstep-anz
Keen to make progress on your sustainability programme? Enlist the right team!
Our clients – large and small – often ask us whom to shoulder-tap when they set up their in-house sustainability team. Our answer sometimes surprises them. Yes, their team members' skills and networks are important. But how their people think and what they value matter too.
Our thinkstep-anz sustainability professionals are a good example. Our almost fifty-strong team come from many different backgrounds including product design, economics, engineering, science, law, and journalism.
Their careers span many sectors and industries. What do they have in common? How they think and what they value.
Pick people who see the 'big picture'
Your sustainability programme should be part of your business strategy. So involve team members who see the 'big picture'. Make sure they understand that becoming a more sustainable manufacturing business is about more than 'saving the planet' (critical though this is). It's about future-proofing your business.
A well-run sustainability programme will keep your supply chain cranking along, reduce the waste you create, keep your customers loyal, and attract talent in a tight labour market.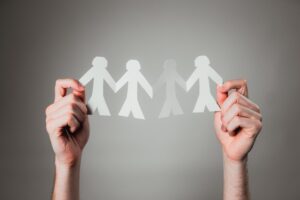 Big-picture thinkers offer other skills too. They understand trade-offs and can set priorities. They'll help you focus your sustainability effort so you have the greatest impact.
Pick 'systems thinkers'
Sustainability is about systems. Change one thing and you'll change another.
Pic credit: Andrew Moca on unsplash.
Why does this matter? Because you want your sustainability programme to succeed. For example, before you redesign your product to use lower-carbon materials, you need to be confident you're not adding to your waste. (Waste can emit carbon too.) Team members who see your products and business as connected 'systems' can identify potential issues like these.
The good news? Manufacturing businesses are full of systems thinkers! They know that your business is 'more than the sum of its parts'. Take Angelica on your factory floor. She knows that a bottleneck in your supply chain reverberates through your business for weeks. Sriram in Operations has to replan production runs. Lisa in Payroll needs to change the team's rosters. Wira in Logistics must rebook customer deliveries.
Appoint an Angelica to your sustainability team and you'll keep systems like these top-of-mind.
Pick people who 'get' sustainability
The United Nations' 17 Sustainable Development Goals view sustainability as a connected system of environmental, social and economic goals. So make the most of the people in your team who share this view and show it in what they do, at and outside work.
How do you spot them? They're the ones sifting rubbish in your canteen to put the recyclables aside and taking the bus to work. They're raising money for social causes like Canteen and organising team 'wellness days'.
Sustainability (in all its forms) matters to them. It's not just a way to embellish their curriculum vitae (CV). Enlist their passion and they'll advocate for your company's sustainability programme too.
Pick people who want to learn and develop
Sustainability is a growing field and a great training ground for people who want to understand business (including your business). Your team will learn a lot as they delve into your products, processes and value chain to make them more sustainable. The skills and knowledge they gain will benefit them and your business too.
So look for people who are curious, persistent and want to build their careers with you. Second them to your sustainability team and projects.
Pick people with a mix of skills
People with strong influencing skills will encourage your management team to act and get their colleagues involved. Team members who can wrangle projects will help you plan your sustainability programme and hustle for progress.
Numbers gurus who love modelling data and 'doing the detail' will set realistic baselines ('starting points') for your work and measure your progress accurately. Strong communicators will share your sustainability story. You'll need them all on your team.
Pick people with connections
Relationships matter in sustainability. So look for team members who hold relationships, internally and with suppliers and customers too.
Do you want to embark on a responsible procurement strategy to buy goods and services produced in environmentally and socially responsible ways? Tim in Procurement is your man. He can help get your suppliers onboard.
Have you redesigned a product to use less water? Vanita in Sales will spread the word with your customers. Do you want to cut the carbon emitted when that product is distributed? Teuila in Logistics can look at options with your logistics provider.
Get the right team in place and your sustainability programme will be off to a flying start!