Naked Creative, a surprising boutique marketing agency based in Invercargill, is making significant waves in the New Zealand marketing scene by successfully partnering with heavy industry companies and supporting their growth and international expansion.
In a refreshing departure from the norm, Naked Creative has proven that big hitters in the marketing world can emerge from unexpected places, challenging the notion that major cities are the sole hub for marketing expertise.
Despite their smaller size, Naked Creative has established themselves as a formidable force in the industry.
Their unique approach and expertise have allowed them to carve out a niche in working with primary sector, food handling and manufacturing, engineering, and logistics companies.
Through their innovative strategies and tailored campaigns, Naked Creative has become the go-to agency for these industries, providing targeted and effective marketing solutions.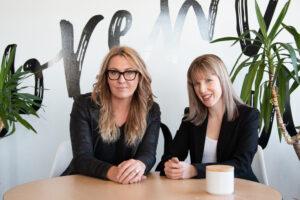 Naked Creative Chief Executive Erin McCall (pictured here,right, with Naked Creative Director, Carla Forbes) acknowledged the advantages of being a boutique agency based in Invercargill.
"It's actually a blessing being boutique, and with a head office in Southland as we have significant primary industry and industrial companies here. It's what we know.
"We have transferred that knowledge to lots of organisations throughout New Zealand, and our size has allowed us to be nimble and move quickly," she said.
Naked Creative's collaboration with industrial clients throughout New Zealand has earned them a reputation for delivering exceptional results.
They have displayed a keen understanding of the specific needs and challenges faced by companies in these sectors, playing an instrumental role in supporting their growth and facilitating successful expansions into international markets.
NZX-listed engineering and industrial automation innovator, MHM Automation has worked with the agency for many years.
MHM Automation CEO Richard Rookes said the partnership they have with Naked Creative was a valuable one.
"The team take the time to really understand what we do and why we are different, and they invest in telling our story. We consider them an important part of our team," he said.
Naked Creative Director Carla Forbes has been the driving force behind the agency's success with her leadership propelling Naked Creative to the forefront of the New Zealand marketing scene.
"We are thrilled to have the opportunity to be trusted and to work closely with a broad range of industrial and primary sector organisations. It is a privilege to be part of their team to support their growth and international expansion," Forbes said.
She also commented on the team she works with and their process to ensure client satisfaction.
"Our team has some extraordinary talent, and they are really dedicated.
"We start by digging really deeply into the organisations we work with, and this discovery process gives us a really meaningful understanding of these industries.
"We then become part of the team, and with this knowledge, we have been able to provide targeted marketing solutions that have made a real impact," Forbes said.
Naked Creative's ability to adapt and innovate has been a key factor in their success.
Whilst a lot of what they do is business to business and very specific markets, they approach heavy and primary industry marketing with fresh perspectives and creative thinking.
The proof is in their outcomes. They have helped companies establish their brands, increase market share, and reach new audiences, domestically and globally.
As a boutique agency based in Invercargill, Naked Creative's achievements in heavy industry marketing in New Zealand is commendable.
Their success serves as a testament to the talent and capabilities present in regional areas, highlighting that big hitters in the marketing world can emerge from unexpected places.
Looking ahead, Naked Creative aims to continue their growth trajectory and expand their services to cater to an even broader range of heavy industry clients.
With their proven track record and commitment to delivering outstanding results, they are poised to remain at the forefront of the New Zealand marketing scene.