Precision component production ignited with 3D Tube Laser Cutter
Industrial Tube Manufacturing, located in the Waikato, has established itself as a key player in the domestic market of carbon and stainless steel tube. Their dedication to constantly improving and expanding has enabled them to attain remarkable success in the industry.
Bolstering its national reputation as a reliable supplier of high-quality steel tube, Industrial Tube commissioned its game-changing 3D Tube Laser Cutter last year – a one-of-a-kind in New Zealand that has sparked a surge in demand for its services and solidified the company's position as a leader in the industry.
Industrial Tube general manager Ian Foster says the company is proud to have been a cornerstone of the Waikato manufacturing community for almost four decades now, catering to a wide range of industries with its broad product offering and excellent service.
"With the market demanding efficiency, versatility and extreme attention to detail, investment in automation and innovation has been a key focus for our business," says Foster.
Known as 'Pro-Tube services', Industrial Tube offers 3D laser cutting, CNC Drilling, deburring, tapering, swaging and telescoping of tube, including carbon steel, pre galvanised steel and stainless steel, in addition to its extensive milled tube offering.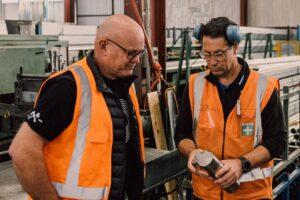 "Pro-Tube raises the bar in terms of what's possible in tube processing and manufacturing. New technology like the 3D Tube Laser Cutter, coupled with the experience and knowledge of our engineers, means we can deliver more options and alternatives to New Zealand businesses that are seeking high-quality, customised components," he says.
Since its integration into Industrial Tube's manufacturing processes, the 3D Tube Laser Cutter has unleashed a wave of opportunities for local manufacturers. The precision, speed, and versatility offered by this cutting-edge machinery have elevated the capabilities of businesses, enabling them to create intricate components with precision and accuracy.
One client is Tony Parton, director of Smokai Limited who says the 3D Tube Laser cutter helped his product development process.
"Our product is precision engineered, and if the components are even a tenth of a millimetre out, the final product may not fit together. Industrial Tube's 3D Laser Tube Cutting provides us with the precision components we need," says Parton.
"One aspect we like about Industrial Tube's laser cutter is the machine's internal catcher, which means that the commonly used anti-splatter spray is not needed, and this results in a cleaner end product, important in our overall product presentation."
"In all honesty, tube cutting is pretty consistent across the market, it's the people and the care they take in the process that helps our product development."
"It is obvious when you see the quality and care of their work that they really do take ownership of the part they each play in the production process. This seems to be reflected in the long-service nature of the team. The staff at Industrial Tube are not just 'doing a job', they care about their output. We really appreciate that as a client. That's the stuff money can't buy," says Mr Parton.