From November issue of NZ Manufacturer  www.nzmanufacturer.co.nz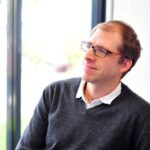 By Holger Heinzel, senior engineer- advanced manufacturing, HERA
Where specific organisations are in their Industry 4.0 journey varies greatly, and many are already taking advantage of the benefits presented by the fourth industrial revolution.
As the uptake of Industry 4.0 deepens and gathers pace, more data and case studies are emerging which show how the fourth industrial revolution is rapidly transforming the way things are made, improving quality and reducing waste, and making manufacturing and production processes more productive, flexible, and efficient.
There is a major opening now to accelerate this uptake across many sectors,and acknowledge and support the pivotal role manufacturing plays in the New Zealand economy, by appointing a Minister for Manufacturing.
A pan-material Minister could represent the industry broadly across all building materials, which would improve outcomes for those in the manufacturing sector and those who rely on its products and services. It would also send a message and help create the necessary structure to enable widespread innovation and adoption of Industry 4.0 methodologies and infrastructure.
As we know, the challenges of implementing innovation include the cost and effort of change, especially for small to medium businesses which have fewer internal resources to scope and define the work and meet the initial workload.
On top of that, established manufacturers face the expense of overhauling, replacing and integrating existing systems and upskilling their trusted workforce.
HERA's efforts to promote, assist, and effect the transformation are multifactorial, and sympathetic to the opportunities and complexities faced by manufacturers and fabricators.
The steel fabrication industry is a specialised sector within manufacturing, concerned with creating large and intricate products that are made to the specific requirements of the customer, with welding the primary method of fabrication used to manufacture these items.
Since they are usually produced in small quantities, often only a single item, fabricators have honed their skills to accomplish this flexibility, while mainly relying on highly trained workers (and plenty of paperwork) to get the job done.
Manufacturing, on the end of the spectrum, typically aims to make as many items of a single design as efficiently as possible using automated processes.
The aim is to bring these two objectives together, so companies can make customised products as efficiently as possible, also known as mass customisation. The concepts and technologies within Industry 4.0 are geared to achieve this.
Good industry leadership in Industry 4.0 adoptions includes the creation of clusters of like-minded organisations who can learn from their respective experiences and strengths and help one another make progress, and to provide ideas and inspirations from near and far afield.
At HERA we have been leading the mahi to support members through our Industry 4.0 Innovation Cluster.
4.0 Innovation Cluster in action
Our cluster meetings have covered topics like data gathering, storage and connection, the tighter integration of services within a company and across company boundaries, to name just a few.
A recent series of meetings included a mid-September session (both on-site, at the HERA Fab4.0Lab in Manukau, and online) on welding productivity, with a focus on maximising efficiency and minimising costs.
The session underscored the important role of equipment, consumables, and well-trained personnel in the shop floor environment and emphasised that productivity improvement is rarely an isolated effort – mirroring the holistic approach of Industry 4.0.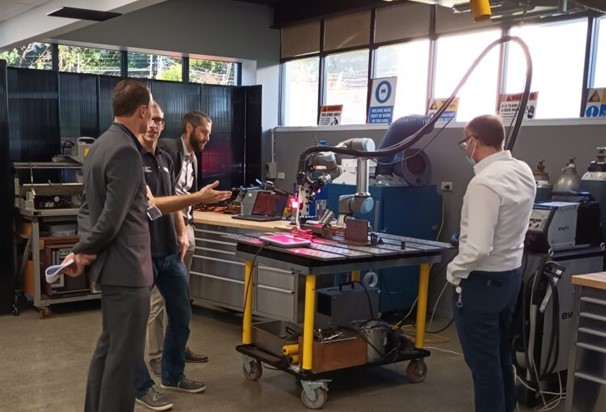 In late September our 'Robot Welding Workshop' explored the opportunities and challenges of robot welding as an established automation technology, its effect on workflows, and what can be done to help members and the industry harness this technology effectively.
Robotic and cobot (collaborative robot) welding solutions for steel fabrication have seen a significant expansion in recent times, through improved hardware and software capabilities and the application of AI. HERA is helping to make the technology more accessible for the heavy engineering industry, so members can benefit from its transformative power.
The workshop also identified the training requirements for technicians, engineers, and operators to enable a skilled workforce capable of harnessing the full potential of the technology; and explored offline programming for complex geometries and simpler programming through lead-through techniques.
In the 7 December cluster meeting we will explore digitisation of information that is manually captured in a company via paper forms. Using apps instead of paper forms and setting up workflows for the gathered data enables better analysis and much faster response times.
We will look at where the technology could be useful, how to roll this out, and what changes the implementation could have.
HERA hosts the national centre of excellence in Fabrication 4.0, the Fab4.0Lab, and is leading Aotearoa's largest research project on Construction 4.0, supported by a $10.3 million MBIE Endeavour-funded grant. HERA also supports individual members with their industry 4.0 transformation, including by offering Industry 4.0 and automation assessments.
The Industry 4.0 assessments are based on the Smart Industry Readiness Index (SIRI), a globally recognised set of tools, frameworks, and metrics designed for manufacturing.
It provides a holistic review across the whole company, identifies and prioritises innovation opportunities, and assists companies tackling Industry 4.0 with a continuous step-by-step improvement process.
These SIRI assessments are eligible for funding by Callaghan Innovation through its recently announced Smart Factory Assessment scheme.
The automation assessment has been developed by HERA in cooperation with the Facility for Intelligent Fabrication (FIF) at the University of Wollongong. Fabricators can use it to assess the automation potential of their welding and fabrication processes.
We are encouraging others to join the Industry 4.0 Innovation Cluster so they can stay ahead of the innovation curve and clear the path for their organisation's own transformation.
For more information on the outcomes of past workshops, or to join the Industry 4.0 cluster or assist with Industry 4.0, please visit https://www.hera.org.nz/industry40/
Case study: Industry 4.0 in fabrication
A large-scale manufacturer had grown significantly in recent years, leading to considerable changes in the technology and tools used by each business unit.
The fabricator was using a fabrication management system to plan and document their work, but the fabrication workshop was still using paper to receive and feed back information, which then needed to be manually entered into the system.
The problem: The manual process of receiving and feeding back information from the fabrication workshop was inefficient and time-consuming.
It also led to errors in data entry. The delay in the availability of information made it difficult to track progress and identify potential problems early on.
The solution: The recommendation was to investigate the possibility of providing the workers in the workshop with digital access to the fabrication management system.
This would allow them to receive and feedback information directly into the system, eliminating the need for manual data entry and reducing the delay in the availability of information.